Audits of Employee Benefit Plans Conference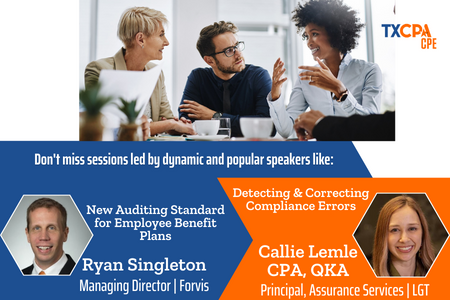 August 16, 2022

08:00 AM - 4:00 PM

Webcast
Webcast Overview
The Audits of Employee Benefit Plans Conference provides an opportunity to learn about recent regulatory updates. This program will provide updates on accounting and auditing standards in addition to helpful tools to assist you in maintaining your edge and delivery on expectations to your clients.

All times listed are Central Time.
8 - 9 a.m. - New Auditing Standard for Employee Benefit Plans
Ryan Singleton/Managing Director/Forvis/Dallas
In July 2019, the AICPA Auditing Standards Board (ASB) issued as a final standard, Statement on Auditing Standards (SAS) No. 136, Forming an Opinion and Reporting on Financial Statements of Employee Benefit Plans Subject to ERISA (EBP SAS). The EBP SAS prescribes certain new performance requirements for an audit of financial statements of employee benefit plans subject to the Employee Retirement Income Security Act of 1974 (ERISA) and changes the form and content of the related auditor's report. It should not be adapted for plans that are not subject to ERISA.
9 - 10 a.m. - Detecting and Correcting Compliance Errors
Callie Lemle, CPA, QKA/Principal/Lane Gorman Trubitt, LLC/Mayfield
Rules and regulations for employee benefit plans are ever-changing and staying in compliance can sometimes be a struggle. In this session, you will learn how to detect and correct some of the most common plan compliance errors, including:
• Delinquent participant contributions
• Missed participant contributions
• Employer match true-up requirements
• ADP/ACP nondiscrimination testing failures
10 - 10:15 a.m. | Break
10:15 - 11:45 a.m. - Planning and Risk Assessment
Jennifer Giannini, CPA/Director/Baker Tilly/Plano
In this session you will learn how to:
• Utilize proper planning to perform a quality audit
• Understand the impact of ERISA Section 103(a)(3)(C) on planning
• Assess and document risk for plan audits
• Understand common EBP audit deficiencies related to planning and risk
• Develop best practices for conducting the 2022 employee benefit audits
11:45 a.m. - 12:45 p.m. | Lunch
12:45 - 1:30 p.m. - Top Employee Benefit Plan Reporting Issues
Kerri Franz, CPA/Partner, Employee Benefit Plan Audit Services/Weaver/Houston
In this session, we will highlight common financial statement errors in defined contribution and defined benefit plans, provide tips on how to identify these errors and discuss tools to ensure complete and accurate disclosures.
1:30 - 1:45 p.m. | Break
1:45 - 2:45 p.m. - Defining Compensation
Randy T. Nichols, AIF ,CLU/Financial Advisor and Co-Founder/MN Retirement Services/Frisco
Dan Mossakowski, CWS, CFEI/Financial Advisor and Co-Founder/MN Retirement Services/Frisco
In this session, you will get a basic understanding of the various definitions of compensation that may be used in an employee benefit plan and how those definitions are relevant to a plan's operations and the determination of the plan's tax qualification status.
Topics covered will be:
• An overview of compensation in employee benefit plans
• Information about the various components of compensation
• Compensation definitions used in plan documents and for a plan's tax qualification status
• A comparison of the various Internal Revenue Code (IRC) safe harbor compensation definitions

2:45 - 3 p.m. | Break
3 - 4 p.m. - Accounting and Auditing Update
Colleen Hebert, CPA/Senior Quality Assurance & Audit Manager/Whitley Penn/Houston
Kristen Emrich, CPA/Senior Manager/Whitley Penn/Houston
This session will cover upcoming accounting standards as well as developments in recently issued accounting standards such as ASC 842.
Premier Sponsor:

Premier Sponsor: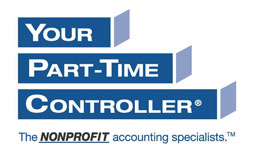 Conference Sponsor:
Showcase Your Services
---
TXCPA is an ideal partner to help you increase and enhance your visibility to our 28,000 members. Browse our Sponsorship Prospectus to discover more ways to promote your business services and products to Texas CPAs.