TopGolf Challenge - FEB. 3
Published on

Jan 12, 2022

by

Carol Spencer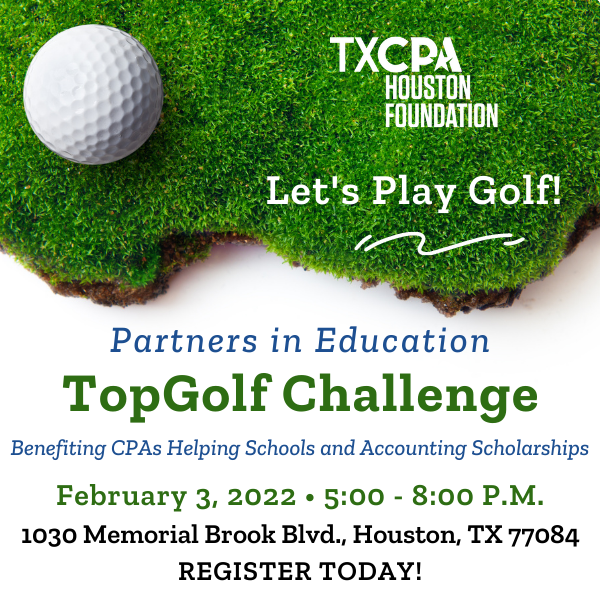 Play golf! Show off your golfing skills at Topgolf Houston-Katy on Thursday, February 3, 2022, from 5:00 – 8:00 p.m. in climate-controlled comfort as you help fund accounting scholarships (Accounting Scholarship Program) and math, science, reading, and STEM programs in local schools (CPAs Helping Schools). Team sponsorships or individual player spots are available. If you cannot attend in person, you may still support CPA Helping Schools and fund accounting scholarships by sponsoring the event!
Since 2002, CPAs Helping Schools has reviewed over 600 grant applications, awarding funding in excess of $550,000 to over 200 schools in 35 local districts, private, parochial schools, and nonprofit educational organizations. In addition to providing education basics for at-risk youth, the financial support of CPAs Helping Schools continues to establish initiatives including math, technology, and literacy programs, library improvements, science materials, resources for after-school programs, fine art programs, and health awareness.
Enjoy food and beverages, silent auction, prizes, and more!
To sign-up for a sponsorship, please email Carol Spencer at cspencer@txcaphouston.cpa.