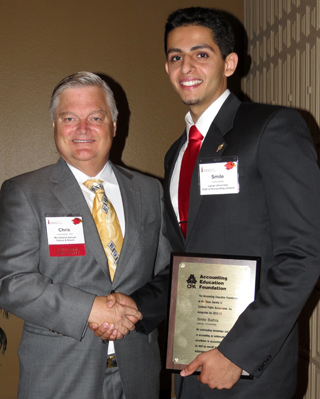 Students at many levels are a priority for the Southeast Texas Chapter.

There is a close connection with the future CPAs – and those who work hard to educate them – at Lamar University. Chapter members throughout the eight-county area provide support with scholarships that are provided through fundraising events, a Faculty Research Award and interactive presentations to accounting classes about real-world accounting issues.
There's also a fun tailgate party during football season: Chillin and Grillin. Contact Rhonda Ledbetter with your questions.

Every year Lamar University participates in the TXCPA Campus Ambassador Program. For the names of the current Faculty and Student reps, email Bryan Garza.
Promoting the Accounting Profession
Volunteers are eager to talk with pupils in high school and middle school about the career options that CPA certification offers. More than ever, young people need to be able to make smart choices in selecting the classes that will enable them to enter college prepared to major in accounting from the start. There can be small-group conversations, presentations to large student audiences or a table at a career fair. Contact Chip Majors, CPA, CGMA.
Local Career Options
CPA candidates are highly sought after by a variety of Golden Triangle area employers. There's great work/life balance to be gained by staying in the area to live and work. Options range from the bustle of Beaumont, to mid-sized cities, to the peace and quiet of rural hamlets. Whether preparing to complete the CPA Exam or awaiting certification, there are opportunities in the Southeast Texas Chapter.