For over 30 years, Fort Worth CPAs have been the spirit of Christmas for many Fort Worth families. In 2020, Santaccountants will benefit children in the daycare program at the Center for Transforming Lives and the students in Como at HOPE Farm. Some of these kids are homeless, some live below the poverty line, and some have socio-economic challenges. Santaccountants bring a set of clothes and a toy, making sure all experience the joy of the season. More about our program recipients below.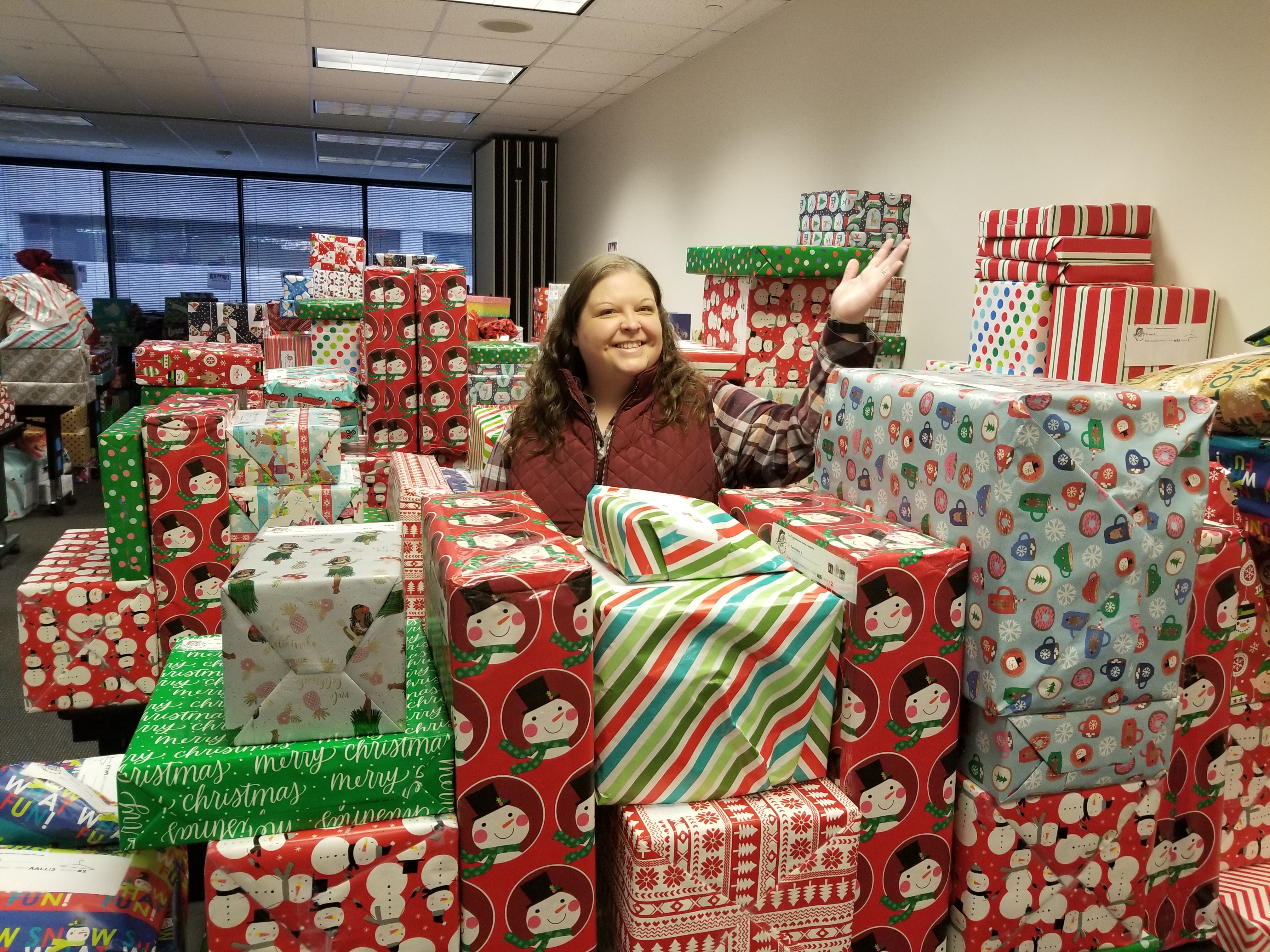 Recognizing that our partners needed more support than ever, over 430 members and their colleagues provided merriment to the most vulnerable in our community.
Thank you each and everyone!
Karen Abernathy | Kellogg and Kellogg PC
Melanie Abila | Whitley Penn
Meg Acker | MADA Trading LLC
Carey Adams | Waters Vollmering & Associates LLP
Haley Adams | JTaylor
Daphne Alexander | Trinity Habitat for Humanity
Oliver Alharbi | Stovall Grandey & Allen
Carol Allen | Stovall Grandey & Allen
Cody Allen | Stovall Grandey & Allen
Jeremy Allgood | Waters Vollmering & Associates LLP
Alex Allred
Jody Allred | Weaver
Sherrie Anderson | Stovall Grandey & Allen
Mike Armstrong | Source Advisors
Michael Arnell | Calvetti Ferguson
Daniella Arroyo | JTaylor
Holly Ashby | PSK
Jack Auldridge | Calvetti Ferguson
Christie Balch | Whitley Penn
Aaron Ballard | Whitley Penn
Andy Barg | Barg & Henson PC
Don Barg | Barg & Henson PC
Ellen Barker | Dixon Hughes Goodman
Thyra Barnes | Whitley Penn
Jenni Barnett | Whitley Penn
Theresa Bartholomew | PwC
Allyson Baumeister | CLA
Cynthia Beavers | Waters Vollmering & Associates LLP
Michael Berg | KPMG
Christy Bessert | BKD
Julia Blair | JTaylor
Melanie Blakely | Barg & Henson PC
Kerrigan Blassingame | Weaver
Ryan Bolton | Whitley Penn
Alina Bouasry | PSK
Chris Boyd | Weaver
Taylor Branum | Whitley Penn
Kiley Bratton | KPMG
Caitlin Brennan | Whitley Penn
Colton Bretton | Whitley Penn
Anna Brewer | JTaylor
Daniel Brezik | Whitley Penn
Jacob Briggs | Storm Guard Roofing & Construction
Katie Briggs | AAPL/NAPE
Brooke Broadhead | Dixon Hughes Goodman
Miranda Brousard | Whitley Penn
Connie Bryant | CLA
Denise Buboltz | CLA
Stephanie Buduhan | PSK
Dana Burris | Weaver
Bob Burton | Stovall Grandey & Allen
Cameron Butterfield | CLA
Brady Byrd | KPMG
Chloe Cagle | Lovelace Law PC
Erin Cahalan | JTaylor
Sarah Caldwell | JTaylor
Kelly Calvert | PSK
Brandon Capers | Weaver
Mary Frances Cargile | KPMG
Crystal Casillas | KPMG
Hallie Caywood | PwC
Andy Chapa | Source Advisors
Chris Chavez | Dixon Hughes Goodman
D'Ann Chavez | KPMG
Nicole Cherubino | Source Advisors
Toni Ciggs | Milbern Ray & Company
Frances Cintron | JTaylor
Randy Cisneros | JTaylor
Tedi Clancy | KPMG
Eliza Clark | Dixon Hughes Goodman
Jennifer Clark | Whitley Penn
Melissa Cline | Whitley Penn
Nicole Clothier | Source Advisors
Jared Collins | Whitley Penn
Karen Collins | Weaver
Monica Collins | JTaylor
Edward Cook
Laura Cortez | JTaylor
Melissa Cote | Weaver
Elizabeth Courtney | KPMG
Karen Cox | Calvetti Ferguson
Lisa Craig | BKD
Joy Crawford | Whitley Penn
Amanda Creech | Dixon Hughes Goodman
Cayla Cromar | CLA
Ashena Cross | Calvetti Ferguson
Adriana Cue, | ML Walton Group LLC
Cynthia Cullen
Edward Dalley | Waters Vollmering & Associates LLP
Taylor Danielson | Calvetti Ferguson
Jayson Davidson | BDO
Emily Davis | KPMG
Sharonette Dawkins | ML Walton Group LLC
Audrey Day | Weaver
Birta Deaton
Gayle DeCaro | Source Advisors
Kristin Derryberry | Weaver
Megly Diaz | Weaver
Matt DiBrienza | Weaver
Trina Dicketts | Whitley Penn
Kay Dixon | CLA
Monique Donson | Whitley Penn
Mark Duffy | Whitley Penn
Adrianna Duncan | Weaver
Mike Dunlap | JTaylor
Katy Dunn | KPMG
Vy Dyer | Dixon Hughes Goodman
Ashley Early | BDO
Jeff Eaton | Spillar Mitcham Eaton & Bicknell LLP
Beth Edgecomb | JTaylor
Matthew Edmonson | JTaylor
Carol Eichler | CLA
Ashley Ensley | Dixon Hughes Goodman
David Evans | PwC
Dora Evans | Stovall Grandey & Allen
Kaylen Evans | Waters Vollmering & Associates LLP
Lisa Finney | Calvetti Ferguson
James Fitts | Weaver
John Flack | KPMG
Jenn Flynn | Source Advisors
Hila Fogel-Yaari | UTA Dept. of Accounting
Desiree Ford | Whitley Penn
Deanna Freeman, | ML Walton Group LLC
Leslie Fry | Dixon Hughes Goodman
Janna Fuller | Source Advisors
Karin Gaddis | JTaylor
Tony Galasso | Waters Vollmering & Associates LLP
Megan Gallagher | KPMG
Karen Garcia | BKD
Yolanda Garcia | Whitley Penn
Sarina Garfando | Whitley Penn
Lauren Garner
Drew Gavin | PwC
Jon Gee | Dixon Hughes Goodman
Paula Gibbons | C R Parr & Associates PC
Kaye Gill | BurnsCo Construction Inc
Brielle (Schwartz)Gladysz | Source Advisors
Rachel Glasser | Stovall Grandey & Allen
Evan Godwin | CLA
Jackie Gonzalez | Weaver
Steven Goodwin | Dixon Hughes Goodman
Hayden Grahm | JTaylor
Jennifer Grammer | Whitley Penn

Brenda Grande | CLA
Paige Gray | KPMG
Lillian Gu | Weaver
Jackie Guerrero | Kellogg and Kellogg PC
Jennifer Guse | Sutton Frost Cary, LLP
Sarah Hall | KPMG
James Hardberger | Calvetti Ferguson
Carrie Hardison | Weaver
LeeAnn Harmon | Kimberling, McFarland and Associates
Victoria Harms | KPMG
Boyd Harrington | JTaylor
Mari Hart | ML Walton Group LLC
Rose Harwell | CLA
Chelsea Hastings | Whitley Penn
Cherie Henderson | UTA Dept. of Accounting
Chris Henderson | Source Advisors
Meredith Henderson | Milbern Ray & Company
Kyle Hendrick | Milbern Ray & Company
Bob Henson | Barg & Henson PC
Berenise Hernandez | Weaver
Justin Herp | Dixon Hughes Goodman
Sherrie Higgs | KPMG
Susan Himes | Whitley Penn
Andy Hines | Whitley Penn
Jennifer Ho | UTA Dept. of Accounting
Elizabeth Hoelscher | KPMG
Leslie Holmes | BEPCO LP
Gregory Homen | KPMG
Luke Hopfinger | Weaver
Brent Horak | BDO
Brittney House | Whitley Penn
Matt Howell | Dixon Hughes Goodman
Deana Howells | Milbern Ray & Company
Jared Howerton | KPMG
Dustin Hughes | Lhoist North America
Jess Hughes | Dixon Hughes Goodman
Olga Ivasina | Weaver
Lindi Jacks | JTaylor
Sharon James | PSK
Brad Jay | Weaver
Brian Jenke | CLA
Kourtney Jenke | CLA
Amanda Johnson | AAPL/NAPE
Cristina Johnson | Weaver
Linda Johnson | CLA
Matthew Johnson | JTaylor
Dana Jones | KPMG
Mark Jones | Mark M Jones & Associates RLLP
Lois Kapp | Calvetti Ferguson
Dayna Keith | Weaver
Dina Kellogg | Kellogg and Kellogg PC
John Kellogg | Kellogg and Kellogg PC
Alexis Kennedy | Weaver
Lindsey Kennimer | Snow Garrett Williams
Steven Khoury | Dixon Hughes Goodman
Cyndy Kimberling | Kimberling, McFarland and Associates
Teresa King | Stovall Grandey & Allen
Bernitta Kinsey | Source Advisors
Melissa Kirkland | Weaver
Margaret Kolyvas | Dixon Hughes Goodman
Tami Koplin | CLA
Greg Kubes | Edward Jones Investments
Julie La Pata | JTaylor
Rebekah Land | Weaver
Adam Lawyer | Dixon Hughes Goodman
Teri Lazarus | Milbern Ray & Company
Tram Le | TaxOps LLC
Sheldon Levy | Sheldon E Levy CPA
Emily Lewis | Kimberling, McFarland and Associates
Jonna Lewis | Whitley Penn
Joyce Lewis | ML Walton Group LLC
Kathy Lightfoot | CLA
Jerry Longino | Barg & Henson PC
Beth Looney | BDO
Renee Lopez | Weaver
Bob Loritz | Weaver
Cade Lovelace | Lovelace Law PC
Bailey Lunsford | Weaver
Justin Lytle | Whitley Penn
Michelle Mackelin | Calvetti Ferguson
Justin Magnanti
Doug Mann | JTaylor
Sandra Markland | Source Advisors
Chad Marquart | CLA
Bonita Martin | Barg & Henson PC
Christine Martinez | ML Walton Group LLC
Hudson Marx | Whitley Penn
Kathryn Mason
Jason Massey | Weaver
Joanne Massey | City Center Management, LP
Tom Massimi | Weaver
Woody Mathews | Calvetti Ferguson
Sam Matusek | KPMG
Amy Mazziotta | KPMG
Connor McBride | Weaver
Desiree McCurdy | JTaylor
Deborah McDowell | Deborah McDowell, CPA
Elicia McGarry | JTaylor
Katie McGee | Weaver
Terra McGhee | UTA Dept. of Accounting
Leslie McGuire | Whitley Penn
Courtney McKay | JTaylor
Sean McKee | KPMG
Kristi Mendez | ML Walton Group LLC
Tonya Merrick | Dixon Hughes Goodman
Sheryl Messer | Whitley Penn
Kim Middleton | CLA
Kitty Miller | Calvetti Ferguson
Megan Miller | Dixon Hughes Goodman
Meagan Minchew | Weaver
Liz Ming | KPMG
Haley Mitchell | Whitley Penn
Kierren Mitchell | Whitley Penn
Tiffany Mix | Kimberling, McFarland and Associates
John Mize
Matt Moeller | Weaver
Jeanell Montanoz | Calvetti Ferguson
Cecile Montgomery
Jamie Moore | Weaver
Debbie Morrison | Calvetti Ferguson
Rusty Murphy | BDO
Nancy Mwangi | KPMG
Sheryl Myrick | CLA
Nandu Nagarajan | UTA Dept. of Accounting
Sabrina Najera | BKD
Kait Nichols | Weaver
Diane Norris | Milbern Ray & Company
Alex Northcott | Whitley Penn
Kari Novotny | Kellogg and Kellogg PC
MaKaila Nzere | JTaylor
Jennifer O'Connell | Scharar Law Firm PC
Timothy Olson | KPMG
Taylor Ott | Whitley Penn
Emily Owens | Whitley Penn
Ainsley Palagi | BDO
Eric Peeters | Weaver
Kendall Pender | Waters Vollmering & Associates LLP
Jim Penn | Whitley Penn
Cherae Perrenoud | Milbern Ray & Company
Bobby Perry | KPMG
Lina Peterson | Weaver
Barbara Petrosky | JTaylor
Carla Petty | CLA

Reid Petty | Weaver
Jake Pharis | Whitley Penn
Katie Pierce | Dixon Hughes Goodman
Andrew Pirtle | JTaylor
Stacia Powell | Dixon Hughes Goodman
Cheryl Prachyl | UTA Dept. of Accounting
Renee Prince | Renee Prince, CPA, PC
Jaclyn Puga | Whitley Penn
Cameron Pulsifer | Dixon Hughes Goodman
Caley Pursley | PwC
Justin Raines | KPMG
Tony Ramos | Calvetti Ferguson
Richard Ramsey | BDO
Travis Ramsey | BDO
Stephanie Rassmussen | UTA Dept. of Accounting
Brad Ratliff | Calvetti Ferguson
Colton Ray | Milbern Ray & Company
Cris Ray | Milbern Ray & Company
Leila Rayburn | Source Advisors
Becky Reeder | Weaver
Lindsay Reese | KPMG
Tammy Regal | Weaver
Cole Reichle | Calvetti Ferguson
Tom Rein | Whitley Penn
Shelly Rexroat | Source Advisors
Katie Reynolds | KPMG
Rachel Rhea | Calvetti Ferguson
Brandon Rhoton | Dixon Hughes Goodman
Sara Richardson | Source Advisors
Gracie Riddick | PSK
Matt Riesen | JTaylor
Hilary Rigdon | ML Walton Group LLC
Estee Rinehart | CLA
Pam Roberts | JTaylor
Susan Roberts | CLA
Gerry Robertson | Robertson & Robertson, CPAs
Dan Robison | Dixon Hughes Goodman
Jaye Rocha | BDO
Christian Rosales | BDO
Mary Rosas | Stovall Grandey & Allen
Kassie Ross | Weaver
David Rosser | UTA Dept. of Accounting
Deb Roth | Source Advisors
Michael Rubin | Dixon Hughes Goodman
Debbie Ruffu | Whitley Penn
Donna Rutter | Ernst & Young LLP
Michele Sanchez-Soriano | Calvetti Ferguson
Lynn Sanders | Whitley Penn
Matthew Sargent | UTA Dept. of Accounting
Jenene Schaffer | BDO
Ryan Scharar | Scharar Law Firm PC
Emily Scharlach | JTaylor
Madelyne Scheffler | KPMG
Arielle Schmeck | JTaylor
Tyler Schroeder | Weaver
Carla Schulz | Milbern Ray & Company
Shannon Schumacher | JTaylor
Melissa Scott | Stovall Grandey & Allen
Shara Sears | PwC
Jeff Servais | CLA
Pacina Seymour | JTaylor
Tyler Shanahan | Dixon Hughes Goodman
Stephanie Shaner | Crestline
Kathleen Shumate
Rebecca Sierp | Whitley Penn
Morgan Sims | Weaver
Wes Sims | Whitley Penn
Justine Singletary | Weaver
Terrance Skantz
Terry Skantz | UTA Dept. of Accounting
Brian Slaugh | Dixon Hughes Goodman
Kelci Slaughter | Whitley Penn
Alicia Smith | CLA
Judith Smith | The Hodges Companies
Molly Smithee | KPMG
Sarah Speegle | Whitley Penn
Bin Srinidhi | UTA Dept. of Accounting
Travis Stegner | Weaver
Daniel Steward | PwC
Norma Stewart | Source Advisors
Andrea Stone | Source Advisors
Jereme Stone | Barg & Henson PC
David Stovall | Stovall Grandey & Allen
Erin Strawn | PSK
Natalie Strong | KPMG
Phyllis Summers | Calvetti Ferguson
Celisse Sundance | Dixon Hughes Goodman
Jacob Tankersly | Whitley Penn
Garrett Taylor | Weaver
Jasmine Taylor | KPMG
Tammy Terra | ML Walton Group LLC
Megan Terrell | CLA
Lei Testa | CLA
Candice Thimesch | JTaylor
George Thompson | Altaras & Thompson PC
Carri Tidwell | KPMG
Betsy Timm | CLA
Chase Tipton | Whitley Penn
Morgan Townsend | BDO
Taylor Townsend | Calvetti Ferguson
Debbie Tubbs | CLA
Shonda Tucker | Weaver
Rebekah VanDijk | Weaver
Luis Vega | Whitley Penn
Becky Vela | Whitley Penn
Vilma Velazquez | CLA
Ram Venkataraman | UTA Dept. of Accounting
Julie Vincent | Source Advisors
Lex-Anne Vogel | KPMG
Jana Volkman | Weaver
Gil Vollmering | Waters Vollmering & Associates LLP
Kenneth von Tongein | Calvetti Ferguson
Kenneth VonTungeln | Calvetti Ferguson
Brittany Waggoner | Whitley Penn
Carla Walker | ML Walton Group LLC
Lulu Walker | Weaver
Mark Walker | Weaver
Kaiti Walls | PSK
Lauren Walsh | BDO
Connor Wanhanen | JTaylor
Jolynn Wanzor | JTaylor
Amy Warren | Dixon Hughes Goodman
Amy Waters | Calvetti Ferguson
Mike Waters | Waters Vollmering & Associates LLP
Martha Webb | Waters Vollmering & Associates LLP
Justin Weber | Dixon Hughes Goodman
Terri Wells | Kellogg and Kellogg PC
Zach West | Weaver
Travis Whitehead | Weaver
Josie Whiteside | Calvetti Ferguson
Megan Widmayer | Whitley Penn
Jonathan Wilke | Dixon Hughes Goodman
Rachel Wilkins | Dixon Hughes Goodman
Alec Williams | Dixon Hughes Goodman
Alison Williams | BKD LLP
Jim Willson | ML Walton Group LLC
Josh Willson | ML Walton Group LLC
Bill Wilson | UTA Dept. of Accounting
Stephanie Wilson | Weaver
Philip Winfield | Weaver
Katelyn Woods | Whitley Penn
Sam Wren | Weaver
Thomas Wyatt | JTaylor
Lara Yates | Barg & Henson PC
Brenda Young | Stovall Grandey & Allen