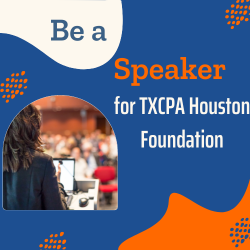 Are you interested in sharing your experience and expertise with accounting and finance professionals by instructing a topic for a TXCPA Houston learning program?
From in-person conferences or live webinars, TXCPA Houston's learning opportunities are designed to deliver high-quality, timely, and engaging content to help our members advance their careers and enhance their skillsets.
Tell us more about you and your topic(s) and we'll share your proposal with our learning team and program planning volunteers by filling out this speaker prospectus form. Questions about TXCPA Houston's learning programs can be sent to cpe@txcpahouston.cpa.