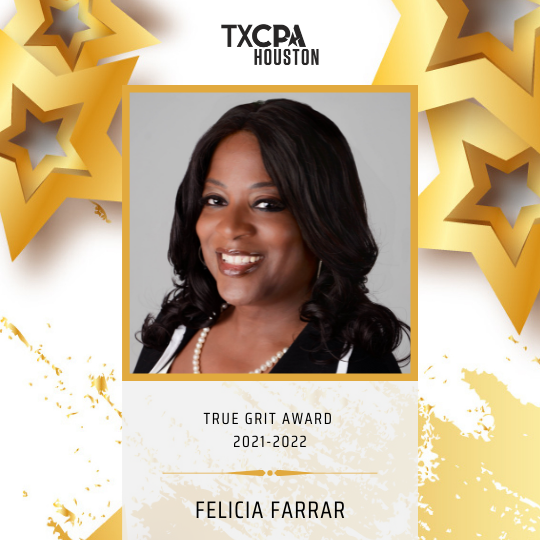 Felicia Farrar, CPA, Ph. D.
TXCPA Houston 2021-2022 True Grit Award
Felicia has been actively involved in not only encouraging young people to enter the accounting profession but in preparing them to succeed in accounting careers. She's served for three years as Chair of the Diversity and Inclusion Committee and is also a member of TXCPA's Diversity and Inclusion Committee. She inspired members of the Chapter's D + I committee to create a presence at the New CPA Swearing-In Ceremony in December that caught the attention of new CPAs and invited them to become engaged with the Chapter. She led a project to present diversity and inclusion topics to CPAs at the 2022 Spring Accounting Expo and CPE by the Sea. Felicia initiated upgrading the committee from a subcommittee to a full committee to emphasize the importance of DEI. Felicia refuses to back down from those who challenge the importance of diversity and inclusion to everyone in the CPA profession.
Thank you for your continued efforts, Felicia!