TXCPA Houston Student Auxiliary
TXCPA Houston Student Auxiliary provides programming and activities for students in the Houston area who are interested in a career in accounting.

The Auxiliary programs cover a variety of topics and have included discussions on big data, soft skills, alternative career paths, cybersecurity careers in industry audit and tax. The programs are developed and moderated by fellow students from local universities.
2020-2021 Student Auxiliary Officers
| | | |
| --- | --- | --- |
| Ekaterina Lyubomirova | President | University of Houston |
| Liboria Chavez | Vice President of Campus Relations | University of Houston Downtown |
| Roman Khoja | Vice President of Campus Relations | Houston Baptist University |
| Pooja Sharma | Vice President of Development | Houston Baptist University |
| Vicky Tang | Vice President of Marketing | University of Houston |
| Anh Nguyen | Vice President of Operations | University of Houston |
The Student Auxiliary Steering Committee works with the officers to educate, inform, and lead by creating an environment of support for students to transition into accounting professionals.
The Steering Committee welcomes our 2020-2021 Co-chairs:
Mirza Shayan Baig, CPA, EY

Manu Sadiev, CPA, Briggs & Veselka Company
Ready to Serve on the 2021-2022 Student Auxiliary leadership team?
Are you a student or CPA-Candidate next year? Do you have what it takes to lead the Student Auxiliary through the year? Do you want to grow your leadership skills? Do you have the time and desire to ensure that your student auxiliary continues its growth? Would you like to have a voice in selecting the discussion topics and formats for the year?
Applications will be accepted until March 31, 2021. Term of office is one year, beginning June 1, 2021.
Applicants must be a current TXCPA/TXCPA Houston member at either student or candidate level and have attended at least one event per semester in 2020 – 2021, although a minimum of three events per semester is preferred. Applicant should currently attend or be a recent graduate of one of the colleges or universities in the membership area.
Are you ready to serve? If so, contact Membership Manager Carol Spencer at cspencer@houstoncpa.org for more details.
Register for our upcoming Student Auxiliary events!
All events are virtual until further notice.
March 12, 2021 | 6 - 7:30 p.m. - Changing Lanes: Alternatives to Public Accounting
What are the opportunities in Financial Services, Healthcare, and Professional Sports and Entertainment? While tax or audit is the most common question you will hear, there are more career options for the accounting major outside the public accounting realm. Learn from our industry professionals what exciting non-public accounting career opportunities are out there for you.
---
March 26, 2021 | 6 - 7:30 p.m. - At Your Service: Accounting in the Public Sector
Uncle Sam needs CPAs! Do you know that IRS, SEC, FBI, FASB, and NASA are more than just acronyms for federal agencies? Governmental entities and not-for-profit organizations rely on CPAs for their internal auditing, fraud investigations, and other accounting needs. Be ready to consider this professional option which can open more career doors in your future.
---
If you would like to participate as a panelist or would like more information about the programs, contact Membership Manager Carol Spencer, cspencer@houstoncpa.org or 832-831-9232.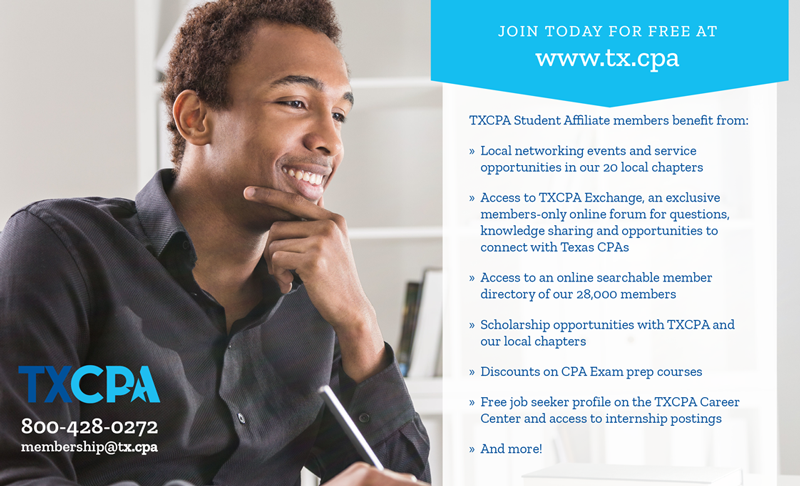 Benefits of Membership
Accounting Scholarships
Members may apply for TXCPA Houston accounting scholarships! Download the

2021 Scholarship Application

. Applicant must be an accounting major entering their senior year at an accredited four-year college or university, a graduate student pursuing a master's degree in an accredited program, or those seeking the additional 30 hours of education to become eligible for a CPA license in Texas.
Other Benefits
Membership in the third largest chapter in the US at a greatly reduced dues rate.

Eligible to serve on committees with prospective future employers.

TXCPA Houston is not just for your school, but for every college and university in the Houston area.

Access to employment opportunities and RESUME POSTING at the TXCPA Houston Career Center.

A great addition to your resume.

Student members majoring in accounting may be eligible to win one of four $250 tuition/book reimbursements.

Our members save money on many CPA Exam review courses, including a $300 savings from Becker CPA Review.

Receive TXCPA Houston's Forum and TXCPA's publications, Today's CPA and Viewpoint, keeping you up-to-date on TXCPA and the future of the profession.

News
February 25, 2021

February 9, 2021

February 3, 2021