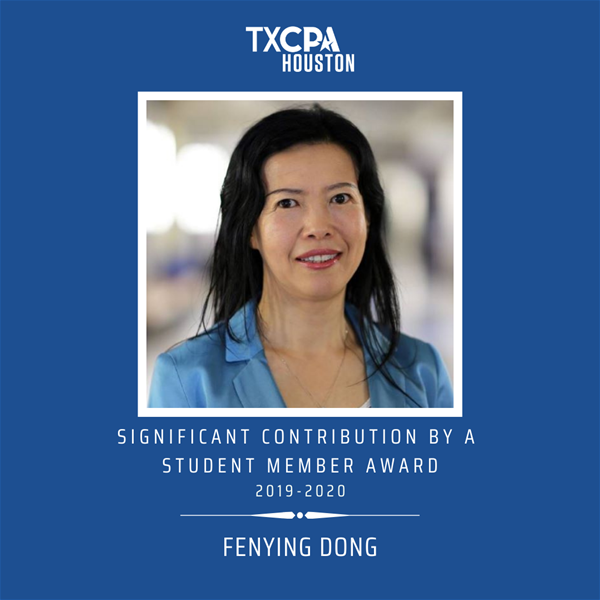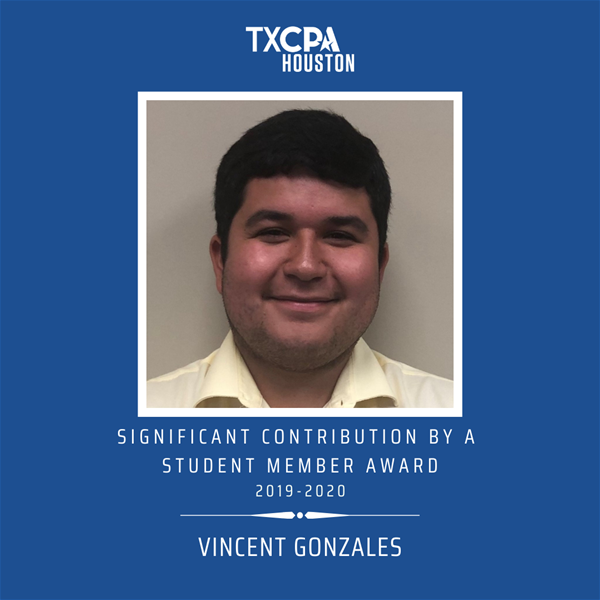 Fenying Dong
Vincent Gonzales
TXCPA Houston2019-2020 Significant Contribution by a Student Member Award Recipients
Fenying Dong and Vincent Gonzales have grown tremendously this year in their positions as student officers.
Fengying took hold of her position as VP of Campus Relations and recruited student and faculty ambassadors, visited classrooms, participated in many career fairs, and is a smiling presence at all student auxiliary events. She is always ready to assist to help the organization, the staff, and especially the student auxiliary.
Vincent joined the student auxiliary after his accounting teacher brought a group of students from Lone Star Cypress to a March 2019 event. He learned of the officer opportunity and made such an impression during his interview that the steering committee selected him to share the position of VP of Operations with another officer.
Vincent has rarely missed an event, always arrives early, and is ready to help in any way necessary. He oversees the check-in process and proper set-up of the classroom for the panel discussion.
Both Fengying and Vincent have grown and excelled in their duties this year. Thank you, Fengying and Vincent, for your hard work and support of the Student Auxiliary!
Congratulations, Fengying and Vincent!