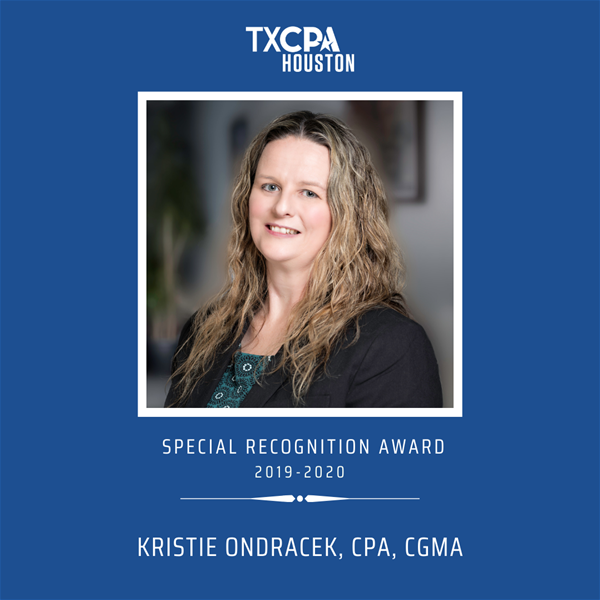 Kristie Ondracek, CPA
TXCPA Houston 2019-2020 Special Recognition Award Recipient
The Academy of Motion Picture Arts & Sciences began in 1928 - the same time as the Houston CPA Society. While the Academy Awards began recognizing their S*T*A*R*S right away, the first Oscar awarded by TXCPA Houston was in 2019-20.
Kristie Ondracek, CPA, CGMA joined the chapter in 2013 and immediately solidified her road to stardom. When she began as an active member, and later chair of CPAs Helping Schools, Kristie had no clue she would eventually join the TXCPA Houston Board of Directors and the TXCPA Board. Along her path, she valiantly served on the Scholarship Extravaganza Committee, Young Professionals, and more. A long-time industry accounting professional, she sought a diversion and accepted the call to serve as Controller for TXCPA Houston in 2018.
In 2019, the real work began for Kristie. While managing the financial functions of the organization, she accepted the new role as Acting Executive Director. This was not to be a cameo part, by any means!
Kristie's latest role had a duration of five-plus months, and she saw that the Chapter was properly staffed, education events continued, members were taken care of, and everyone in touch with TXCPA Houston left with the knowledge that they were part of a fantastic membership association! Kristie is a go-getter, impassioned about her profession, TXCPA Houston, and giving back through volunteer hours, coaching, and serving her fellow member. It is a great honor to recognize Kristie Ondracek as the 2019-2020 Oscar recipient!
Congratulations, Kristie!