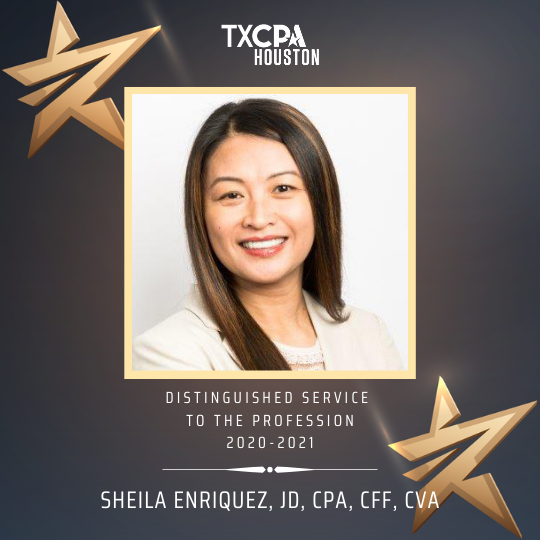 Sheila Enriquez, JD, CPA, CFF, CVA
TXCPA Houston 2020-2021 Distinguished Service to the Profession
Sheila is a life-long learner who shares her extensive knowledge for the benefit of so many within the accounting profession. She is a member of the State Bar of Texas and serves on the TXCPA Executive Board of Directors. Sheila is also a past president of the Houston Chapter.
In 2020, she was named as a Most Admired CEO Honoree by the Houston Business Journal, and as a Breakthrough Woman By the Greater Houston Women's Chamber of Commerce. In 2019, she was named by the Business Journal as a National Finance Influencer, and in 2017, was featured on the cover of the Houston Business Journal as one of the group of Women Who Mean Business. This year, Sheila continues her phenomenal service to the accounting profession as TXCPA's 2021-2022 Chair-Elect. She is also a member of the AICPA and served on the AICPA Governing Council.
As Managing Partner and CEO of Briggs & Veselka, Sheila continues the firm's long-standing practice of giving back to the community and the profession with a cardinal focus of supporting TXCPA and TXCPA Houston. With a busier-than-ever schedule, Sheila continues to make time to share her accounting passion and successes with the Student Auxiliary.
Thank you, Sheila.