Ready or Not
Published on

Jun 1, 2023

by

TXCPA Houston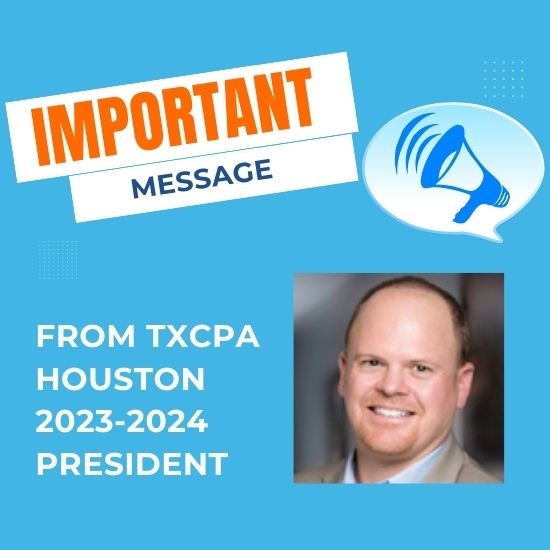 June 1, 2023
Today represents the first day of the new fiscal year for the TXCPA and our Houston Chapter, and is a day that I have imagined and thought about for several months. And while nothing really felt different when I woke up this morning, drove into the office, or as I got my day kicked off, I realize how special it is for me to be the TXCPA-Houston President and to be able to serve alongside you all. And I am humbled.
Over the past several weeks, many of my closest friends and colleagues from the Chapter have asked the same question – "are you ready?" And at first, the question caught me off-guard. I thought to myself, I have been involved with the Chapter for a long period of time, I have an opportunity to work with experienced, and highly qualified staff members, and some of the most motivated, enthusiastic and energic volunteers, what am I missing? But ready or not, we are here!
First, let me express my sincerest gratitude for you taking time from you personal and professional lives to help support the TXCPA Houston Chapter. Your efforts, the support you provide to the Chapter, and your thoughtfulness on how we can continue to make our Chapter wildly successful are stamped on every event, conference, email and connection that you all participate in.
Second, the time you are committing to the Chapter is important and meaningful. Every volunteer experience is unique. And while we have found common ground in serving the Chapter and our community as CPAs, I want to encourage you to follow your passion, share your ideas and suggestions, and foster a sense of belonging and inclusiveness to other members of our Chapter.
Lastly, I believe I am ready because we have a committed group of great people. I am inspired by you, I am encouraged by you, I am appreciative of you, and I am ready to serve because of you. Let's have a great year! Thank you for all that you do.

Adam Dimmick, CPA, CGMA
2023-2024 TXCPA Houston President