Community Service
Statewide and Local Activities
Giving back to our local communities is just one of many ways we can help promote the value of the accounting profession! That's why the Texas Society of CPAs works hard to connect our members to a variety of volunteer opportunities. Volunteering is a great way to make a difference in your local area by helping those in need – all while networking and forming valuable connections with fellow TXCPA members!

We encourage all members to get involved in their community and volunteer in whatever way they believe is most meaningful – whether it's organizing a food drive, teaching financial literacy classes or lending a hand at a local animal shelter.
Check with your local chapter to see what opportunities are available near you.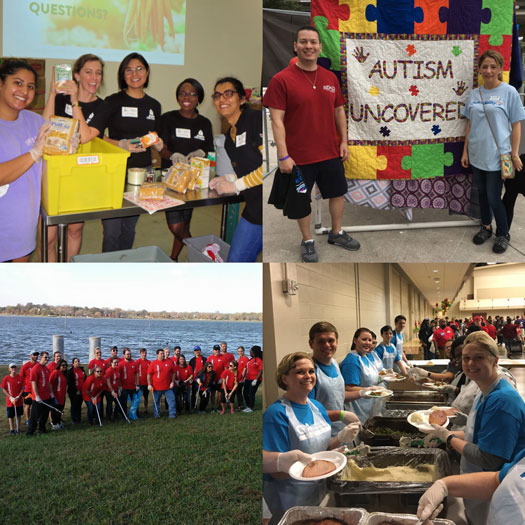 Chapter Activities
Austin

Event/Opportunity: Care Kits for Homeless

When: December 2, 2021

Description: We're incorporating assembling Care Kits for the Homeless at the end of our Strategic Planning Meeting on December 2. The kits will be delivered to Caritas of Austin for distribution as needed. How do members volunteer? Include contact person and details, link to online sign-up form or other instructions.

Estimated time commitment: 30 minutes

Contact: Diane Joiner.

~~ ~~ ~~ ~~ ~~ ~~ ~~ ~~ ~~ ~~ ~~ ~~ ~~ ~~ ~~

Event/Opportunity: TXCPA Austin Holiday Party (Bring a backpack for foster children)

When: December 14, 2021, 5-7 p.m.

Description: Asking attendees to the TXCPA Austin Holiday Party to bring a child's backpack. The backpacks will then be stuffed with items that a new foster child might need. This is for the Carrying Hope organization.

Estimated time commitment: 15 minutes

Contact: Diane Joiner.

South Plains

Food2Kids Food Drive and Sack Stuffing Volunteer Shift

The South Plains Chapter has chosen the Food2Kids program as our Month of Service beneficiary. Began in 2005 by the Junior League of Lubbock and now a standalone non-profit, the Food2Kids program sends over 2,000 of food sacks home each week to elementary-age LISD students who have been identified as "food insecure" by their teacher or school counselor.

These bags include shelf stable, high caloric food that a child as young as four is able to prepare or open themselves, as well as share with other siblings or children in the home environment. Currently, Food2Kids is becoming its own stand-along nonprofit organization in order to feed more children across the South Plains

How Can You Help?

Donate Pop Tarts by bringing them to a chapter meeting or contact Kathleen Burrell to come pick them up from you. Pop Tarts are high in calories, so it fills and sustains little tummies longer, as well as they are easy to prepare, do not require heating (or are easy to toast) and are shelf-stable. Also, children report how special they feel when they receive a 'fancy' name brand item like Pop Tarts in their sacks.

+ Purchase PopTarts off of our chapter Amazon. * * Please make sure to select Kacee Hogg/Food2Kids at 5901 76th Street, Lubbock, TX 79424 as the shipping address.

+ Volunteer for a Stuffing Shift. Come join Food2Kids for a bag stuffing shift. We will be volunteering sometime in December- actual date TBA until closer to December. Please note that this opportunity does require physical activity, standing and lifting. Please contact Kathleen Burrell regarding signing up and for more information.

+ Donating Money for Food Purchases to Food2Kids. Food2Kids is a unique program because 100 percent of all donated funds goes directly to food purchases- there is no overhead taken out of donations! Make your check directly to Food2Kids (to Kacee Hogg, Food2Kids, 5901 76th Street, Lubbock, TX 79424).

If interested in volunteering, please contact Kathleen Burrell.