- 2023 -
Texas Legislative Session
2023 TXCPA Legislative Priorities
120 Hours to Sit for the CPA Exam
Oppose Sales Tax on Professional Services
Proper Regulatory Oversight of the CPA License
Monitoring State Tax Legislation
---
120 Hours
This legislation will amend the Public Accountancy Act to allow candidates/students to begin taking the CPA Exam after completing 120 hours of education. Texas is one of only seven states that mandate that a student complete 150 semester hours before taking the CPA Exam.
Allowing testing to begin at 120 hours will give students more flexibility on the path to 150 hours for certification.
Certification/licensure will still require 150 semester hours.
There are instances of Texas students taking the Exam in other states and not returning to Texas.
Requiring testing after 150 hours creates obstacles for students/candidates because life begins to intervene – students have debt, families get started, the need for a job increases, and the financial burdens increase between 120 and 150 hours. Many students decide not to pursue the CPA Exam and licensure if they have to wait an additional 30 hours before the Exam can be started.
---
Oppose Sales Tax on Professional Services
TXCPA opposes a sales tax on professional services. Professional service taxes are difficult to administer, do not raise a significant amount of money and create inequities in the tax system. TXCPA works closely with other regulated professions (doctors, lawyers, realtors and others) to prevent the imposition of a sales tax on professional services.
---
Proper Regulatory Oversight of the CPA License
TXCPA will defend against any legislation that in any way limits, diminishes or affects the importance and rigor of the CPA license. The CPA license protects the general public and the accounting profession, and it is a key factor making sure the markets and the Texas economy have a solid foundation.
---
Monitoring State Tax Legislation
TXCPA will monitor, review and analyze all tax legislation (tax proposals, property tax, tax deadlines, new/repealed taxes) to ensure that all issues and concerns that are vital to the accounting profession are addressed.
Get Involved
---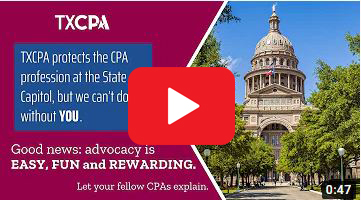 Texas Members of Congress
In Need of a Key Person:
Rep. Greg Casar
(D-35) Austin
Rep. Jasmine Crockett
(D-30) Dallas
Rep. Monica De La Cruz
(D-15) Seguin
Rep. Wesley Hunt
(R-38) Houston
Rep. Morgan Luttrell
(R-8) Magnolia
Rep. Nathaniel Moran
(R-1) Longview
Rep. Keith Self
(R-3) Greenville
Email Patty Wyatt to volunteer or for more information.
---
Here are some helpful websites to help keep track of the 2023 Texas Legislative session:
---
CPA-PAC
Member Managed
Member Driven
Member Focused