Pathway to Leadership
The TXCPA Austin is excited to once again offer the popular and successful Pathway to Leadership program. The program is a flexible, value-driven professional development series which covers various leadership topics from "Leadership Toolkit", "Leading Remote Workforces", "Emotional Intelligence" and others. Two-hour CPE classes are offered from August through March.
Classes are open for all members. Members who wish to graduate from the program in May will need to attend at least 7 of the ten CPE sessions and participate in 3 in person chapter activities throughout the year. Details on how the program works will be shared at the first session on August 15.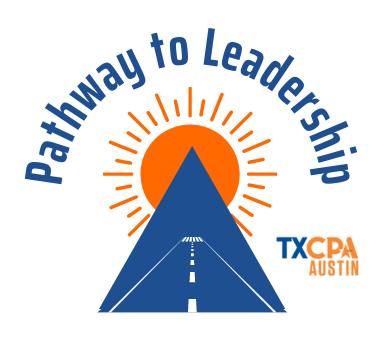 These courses will be presented via live webinar only. Connection instructions will be provided via email the day before the course.
Registration for these classes is open and includes 2 hours of CPE. Member fee is $25; Non-Member fee is $40; Student & Candidate fee is $15.
Questions? Contact Diane Joiner.
The "theme" of this course is that it takes A LOT to be a great leader, strength, empathy, courage, vulnerability, compassion, assertiveness, hard work, competitiveness, motivation, accountability, responsibility, and so much more. Attendees will get a high-level overview of each topic and the reasons why each is important for the long game of being a great leader.
Few words and ideas are more enigmatic than 'motivation'. It's mostly used with the words 'lack of' in front of it and accompanies a reprimand or difficult conversation. Motivational gurus and speakers promise to inspire and motivate us but the feelings last until the end of the speech or conference. In this session, we'll discuss the scientific and neurological sources of motivation. Practical and applicable strategies to boost motivation in ourselves and others is the ideal result – the good feelings will be there too!
In the modern world of social media, artificial intelligence, and virtual reality there are plenty of 'fakes' and tragedy strikes when we become fake versions of ourselves. Nothing contributes more to employee burnout than falling too deep into the work versions of ourselves. Even if our motivation and passion for our work is extremely high, the facades we put on cause the rewards of achievement to be lost. This session will help eliminate falseness from the way we communicate and conduct ourselves, leading to a richer and more fulfilling professional life as well as making us more confident in other aspects of our lives.
EQ/EI is another victim of its own success – it has become a mainstream topic to the point of overkill. If one were to ask ten different people what Emotional Intelligence is and read ten websites on the topic, there's a good chance they would find twenty different versions of what Emotional Intelligence means. Three things matter: how we know what EQ is, why it is critical for our career success as well as personal relationships, and how we can improve our EQ. All will be discussed in this session.
The most successful companies, best friends, spouses, coworkers, and leaders are skilled and thoughtful in their communication. Mastering communication is not a simple task and not one that can be achieved without consistent focus over a long period of time. This session will serve as the starting point for that period with an emphasis on Assertiveness, Nonverbal Messages, Emails, and Communication Mediums.
The number of distractions available at our fingertips these days is astounding. That any work gets done at all is a testament to our desire to be productive, useful, and successful. Procrastination, distracted thought processes, and low productivity due to inactivity are problems that existed before the distractions, though, and time management is about strategy, not eliminating distractions. Calendar blocking, post-it notes, journals, planners, white boards, virtual assistants, actual assistants, and every other methodology is effective but until we're connected to our to-do lists on a personal level, they're just more distractions. In this session, we'll discuss a strategy I invented wherein we related seemingly meaningless, mundane, or repetitive tasks to our individual values. This connection creates the motivation and drive to move through our day and do more! Not because we have to, but because each checked box is a step closer to being who we want to be!
Baby Boomers, Gen X, Millennials, OH MY! Nothing ever beats time. Whether a person is a new college grad entering the workforce or a tenured employee thinking about retirement, knowing how to navigate a generationally diverse workforce is massively important. An understanding of each generation with meaning and relevance is necessary to create a positive company culture and to ensure the longevity of the organization and its principles. This is a fun and funny take on that topic with meaningful takeaways.
Virtual, remote, hybrid – whatever you call it, the "new normal" everyone talked about in 2020 brought the option of working from home into the spotlight, and it is here to stay. Like many sudden changes or advancements, there are myriad benefits and hardships accompanying it. In this session we'll discuss the hurdles and challenges of such a workplace, how to avoid them, and how to lead your team in deep meaningful ways no matter where they are.
Becoming a leader is an honor no matter how it occurs, but being hired or promoted into a leadership position comes with a new set of challenges. Too often new leaders are trained only in how to do the functions of the job relative to production and output. A leader's real responsibility is to the people reporting to them. Training and learning these newfound responsibilities is hard to find, but this session will cover what a new leader needs in order to be successful – whatever that looks like to the individual leader.
#10 - TUESDAY, MARCH 5, 11AM-1PM: TOPIC TO BE TBD
Testimonials from past participants:
"Excellent Program! Great group of people. I learned so much about several relevant topics, and along the way learned more about myself."

"All the speakers were outstanding and truly had a passion for teaching. The information presented was both relevant and applicable to real world situations that we experience on a daily basis."

"I participated in the Austin Chapter's Pathway to Leadership Program to improve several soft skills, like goal setting, effective meeting management, and dealing with difficult people, skills not often taught through traditional CPE courses. The program also provided several, meaningful opportunities to be more involved with the Chapter and to work alongside other Austin CPA leaders. I appreciated the flexible scheduling and virtual courses, and I highly recommend the program to anyone interested in growth and helping others succeed."

"This was a great program for anyone who wants to expand their career, from goal setting, networking, and ways to better understand yourself and how you interact with others. I would recommend this class to anyone in their career, CPA, public practice, or industry."
Questions? Contact Diane Joiner.