Financial Institutions Conference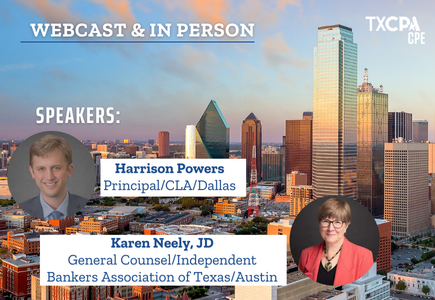 October 17 - 18, 2022

08:00 AM - 3:15 PM

Dallas and Online
The 2022 Financial Institutions Conference will be both a webcast and in person at Dallas/Addison Marriott Quorum Hotel.
This popular program is the source for experts who are involved on a daily basis with the intricacies and issues facing financial institutions. From government regulations and an economic update to information on mergers and acquisitions…we will have topics that interest you. Bank on it!

Please read: COVID-19 Safety Protocols
TXCPA Member Registration Fee:

Early bird: Member $425
(deadline Oct. 3, 2022)
Non-member CPA $660
Member $475
Non-CPA Staff $475



CONFERENCE HOTEL: Dallas/Addison Marriott Quorum Hotel | Book your room
14901 Dallas Parkway, Dallas, TX 75254 | Phone: (972) 661-2800 or 800-228-9290
Reservations: 800-228-9290 | Hotel cut off: September 26, 2022 (or when block fills)
Room Rate: $174+ tax.

Parking: Complimentary self-parking. Daily valet $15 plus tax. Overnight valet $28 plus tax. Daily attendees do not receive in and out privileges with their parking fees. Contact hotel for additional parking information. Parking prices are subject to change and are not included as part of the registration fee.
CPE InfoLine: 800-428-0272 or 972-687-8500 in Dallas | E-mail Customer Service
Day One - Monday, Oct. 17, 2022
8 - 9:30 a.m. - Current Update on Banking - Hot Topics
William Chittenden, Ph.D/Chief Academic Officer/SWGSB/Dallas
The digital bar has been raised in banking for 2022! Banks are now expected to achieve an exact balance of traditional and modern banking experiences for their clients. Hear about this and other hot topics in banking.
9:30 - 9:44 a.m. | Break
9:45 - 10:45 a.m. - Deconstructing the Great Resignation
Troy Ashby, CPA /President/Benchmark Search/Dallas
In this candidate-driven market, the current economic climate presents unique challenges. Whether the Great Resignation is a pandemic-driven anomaly or a long-term trend, how can we adapt to retain and attract talent?
10:45 - 10:55 a.m. | Break
10:55 - 12:25 p.m. - Accounting and Financial Reporting Updates
Sydney Garmong, CPA/Office Managing Partner/ Crowe/ Washington, D.C.
Mark Shannon, CPA/Partner in Assurance Professional Practice (APP)/Crowe/ Washington, D.C.
There have been an unprecedented number of accounting changes in the U.S. and internationally. This session will address the latest developments in key areas from multiple perspectives.
12:25 - 1:05 p.m. | Lunch
1:05 - 2:05 p.m. - Legislative Update
Steve Scurlock/Director of Government Relations/Independent Bankers Association of Texas/Austin
Christy Bussey/ Director of Solutions and Strategies/Independent Bankers Association of Texas/Austin
This session will provide a conversational update on key legislative and regulatory issues impacting the banking industry in Texas and Washington, D.C. Their discussion will include a review of significant changes and events, an assessment of the current environment and a look forward. With the November elections upon us, they will also provide some insights into the world of politics.
2:05 - 2:15 p.m. | Break
2:15 - 3:45 p.m. - Regulatory Update
John Alexander/Director-Examinations/Federal Reserve Bank of Dallas/Dallas
Terence Mack/ Associate Deputy Comptroller/ Office of the Comptroller of the Currency/Dallas
Tom Susany/Dallas Regional Director/Texas Department of Banking/Dallas
Danita Thompson, CPA/Regional Accountant/FDIC/Dallas
With the continued challenges and economic impact surrounding COVID-19, along with government and regulatory responses, financial services firms have focused on financial and operational resilience. This panel discussion will give insight on how you can navigate these critical challenges.
3:45 – 4 p.m. | Break
4 - 4:50 p.m. - Cybersecurity Lessons Learned
Jesus Vega, CISSP/Senior Manager, Risk Advisory Services/ Whitley Penn/Dallas
Can we all agree that cybersecurity is a constant problem in today's digital age? The industries need of intelligence sharing has grown with the increase cyber vulnerabilities. In this session we will discuss how the landscape has rapidly evolved over the past year. Get a review cybersecurity breaches from the other guys and learn from them.
Day Two- Tuesday, Oct. 18, 2022
8 - 9:30 a.m. - Economic Update
Blake Scharlach/Director of Capital Markets Sales/TIB, N.A./Dallas
Is the U.S. headed for recession? The economic environment has changed dramatically and risks are on the rise. This session will give an update on the economy as we understand it today.
9:30 - 9:45 a.m. | Break
9:45 - 10:45 a.m. - Cryptocurrency/Blockchain
Tim Savage, CPA/Partner - Tax Services/Weaver/Dallas
This presentation will cover the basics of blockchain and digital assets taxation. Get an introduction to the technology and various crypto assets and walk-through current tax treatment and issues.
10:45 - 10:55 a.m. | Break
10:55 - 12:25 p.m. - CECL
Harrison Powers, CPA/Principal/CLA/Dallas
Get the latest information on an additional tool to help community financial institutions implement the Current Expected Credit Losses (CECL) accounting standard. The Expected Losses Estimator (ELE), the spreadsheet-based tool, utilizes a financial institution's loan-level data and management assumptions to assist community financial institutions when calculating CECL allowances.
12:25 - 1:05 p.m. | Lunch
1:05 - 2:05 p.m. - Compliance Update
D'Lynn Lane, AAP, CRCM/Manager/Eide Bailly/Abilene
Get an update on compliance regulations for financial institutions. During this session we will cover hot topics related to Unfair, Deceptive, or Abusive Acts or Practices (UDAAP), Bank Secrecy Act, Anti-Money Laundering, the Flood Protection Act and more.
2:05 - 2:15 p.m. | Break
2:15 - 3:15 p.m. - Interest Rate Risk and Investment Portfolio Management
Scott Stamper/ Vice President Capital Markets/Frost Bank/San Antonio
Learn how to manage interest rate risk in the current economic environment. Get an insight on investment strategies and execution transparency.
Premier Sponsor:

Premier Sponsor: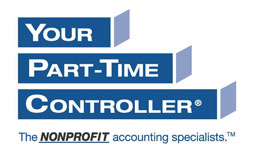 Silver Sponsor: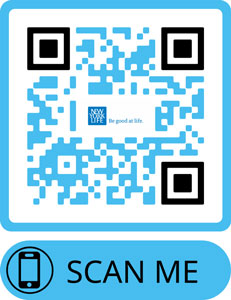 Silver Sponsor:

Conference sponsor:

Showcase Your Services
TXCPA is an ideal partner to help you increase and enhance your visibility to our 28,000 members. Browse our 2022 Sponsorship Prospectus to discover more ways to promote your business services and products to Texas CPAs.