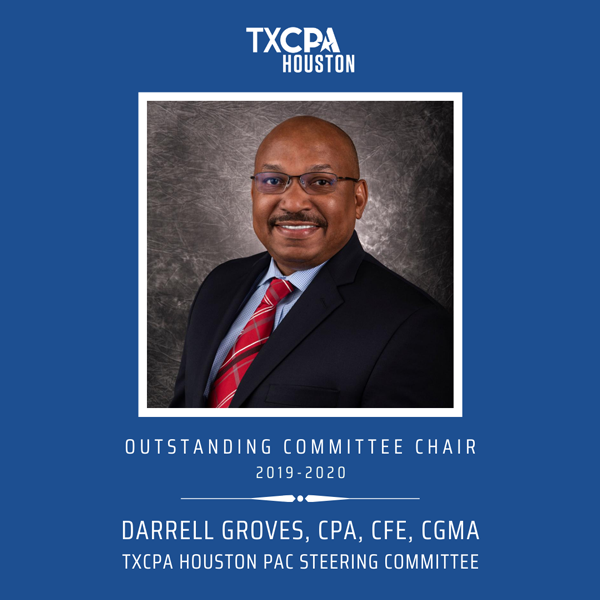 Darrell Groves, CPA, CFE, CGMA
Chair, TXCPA Houston 2019-2020 PAC Steering Committee
Long before Darrell Groves stepped into the role of TXCPA Houston's President in June 2020, he demonstrated a gift for leadership. As Chair of the PAC Steering Committee, he established processes and communications systems that motivated committee members to increase their engagement and productivity. He established subcommittees through which he rallied members to provide planning and outreach support to the Chapter. The Marketing & Communications Subcommittee developed focused and creative campaigns for PAC Bonus Week and for generating year-end contributions. The result: TXCPA Houston exceeded its budgeted fundraising goal by 79 percent. Darrell Groves truly earned the respect of his peers.
Darrell is Managing Director of DWG CPA PLLC. He received his Bachelor of Business Administration in Accounting degree from the University of Texas at Austin in 1989 and has been a licensed CPA since 1991. Click here to learn more about his background.
Congratulations, Darrell!