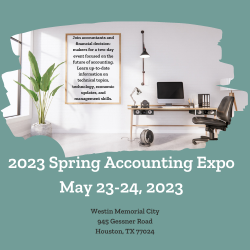 Join accountants and financial decision-makers for a two-day event focused on the future of accounting. Learn up-to-date information on technical topics, technology, economic updates, and management skills.
On Day 1, there will be three tracks including topics in technical, technology, and business leadership and development.
On Day 2, attendees will be able to earn the required 4 hours of CPE for the Texas State Board of Public Accountancy. Deanna Sullivan will present her highly-rated Texas State Board-approved Ethics course.
Our Keynote and Master of Ceremonies will be Erik Korem, Ph.D who will guide attendees in living their best life ever with simple guidance. This is something you do not want to miss.
If you attend both days and all sessions, you will be receive 20 hours. What a great way to learn, meet new friends, and reconnect with old friends. Invite someone who know to the 2023 Spring Accounting Expo.
2023 Spring Accounting Expo Sponsorship Guide