Go Figure: Data Analytics in a Virtual World
Published on

Sep 17, 2020

by

User Not Found
Last week our members attended Zooming to Success: Soft Skills in a Virtual World and found the event exciting and informative. The knowledge students gained helped them better navigate the post-COVID professional world and the breakout rooms gave them a chance to network with professionals.

Interesting fact: do you know what the 7-38-55 rule is? The rules of personal communication, Claudio Diaz of Briggs & Veselka explains, governs the importance of verbal and nonverbal signals. 7% of communication is verbal, 38% is tone of voice, and 55% is nonverbal. Furthermore, we discussed how crucial feedback from your peers and organization can help boost your confidence and skills.

One of our attendees asked a valuable question: how important is luck in achieving success? Claudio, Joe Jett of EY, and Chris Gervasio of ExxonMobil agreed that success is opportunity and timing. Therefore, when a great opportunity is knocking at your door, what are you waiting for?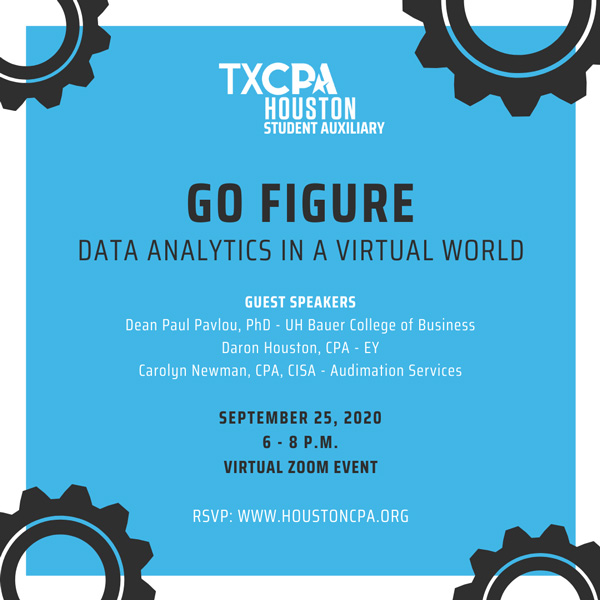 Come join us at our next event, Go Figure: Data Analytics in a Virtual World on September 25 at 6 p.m., where you will be able to understand the importance of data analytics in the business and academic world from speakers like Dr. Pavlou, Dean of UH Bauer College of Business, Daron Houston, Assurance Partner at EY, and Carolyn Newman, owner of Audimation Services Inc. Click here to register.

Upcoming Student Auxiliary hosted events

October 9 - Be Audit You Can Be: Auditing in a Virtual World - Register here
October 30 - Deep in the Heart of Taxes - Tax in a Virtual World - Register here

Invite others in your company to see your future employees and leaders in action!

If you would like to participate as a panelist or discussion leader in a future event, contact Carol Spencer at cspencer@houstoncpa.org.