2020-2021 Recognition Awards - Nominate by Friday, Feb. 5!
Published on

Feb 2, 2021

by

User Not Found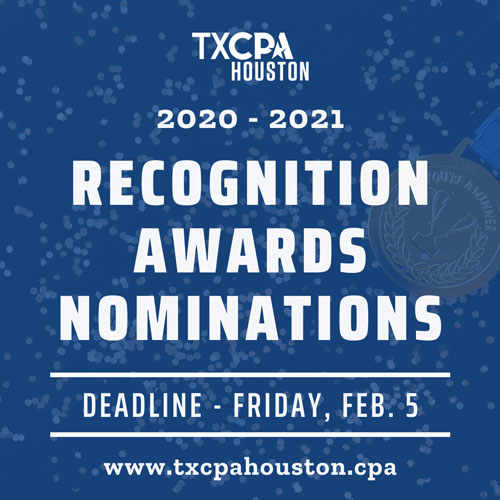 How do you describe a CPA? A friend? An educator? Trusted? Someone to have on your side in a battle?
Members are the lifeblood of any organization. When called upon, TXCPA Houston members rise to the challenge. Whether it is helping neighbors and community after a natural disaster, offering aid to those in need, providing volunteer or financial support during a crisis, or mentoring a fellow member on their climb up the corporate ladder, you and your fellow members are there for each other!
Help us recognize our members who have given their time and articulated their visions to TXCPA Houston in 2020 - 2021. You are encouraged to submit nominations for those members, including yourself, who you believe have excelled this year. There are many categories but not enough for all 7,000 members!
Categories include:
Significant Contribution by a Member in Public Practice
Significant Contribution by a Member in Industry
Significant Contribution by a member in Education
Significant Contribution by a Student Member Distinguished
Service to the Profession Distinguished Public Service
Outstanding Committee Chair
Outstanding Committee Member
Outstanding Young CPAs of the Year
Outstanding CPA of the Year
Outstanding CPE Event
Outstanding CPE Award
John B. Harrison Award for Community Service
Stan and Margaret Voelkel Contribution to Education
Rookie of the Year
Special Recognition
Please thoughtfully consider and complete your nominations no later than Friday, February 5.
Chapter leaders will review the activities and accomplishments cited in the nominations, then select those who they believe are most deserving of recognition. Award recipients will be acknowledged in May, perhaps at the customary annual awards dinner. Caution remains and while hopeful and all-too-ready for a fun in-person event, proper care will be taken to ensure the utmost safety and health of the members.
If you have any questions concerning the recognition awards or general membership, please contact Membership Manager Carol Spencer at cspencer@houstoncpa.org or 832-831-9232.