CPAs Helping Schools Update
Published on

Feb 5, 2021

by

Carol Spencer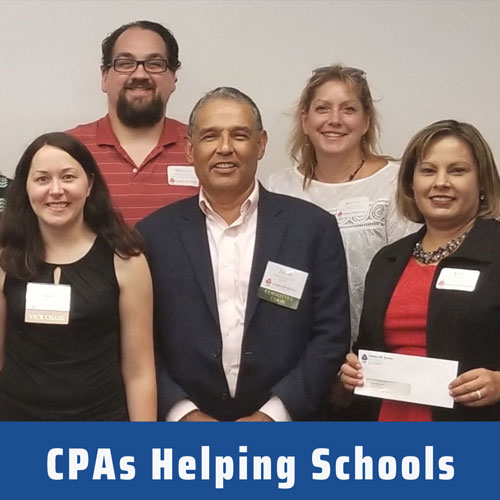 CPAs Helping Schools virtual Partners in Education reception was held on January 14 and attended by committee members and Chapter leadership. Ten educators from the five schools talked about their programs that the CPAs Helping Schools grant initiative is funding.
The TXCPA Houston CPAs Helping Schools Committee awards up to $50,000 annually in financial grants to Houston area schools for educational projects benefiting at-risk students.
There were fewer grant applications received in 2020, due to COVID-19 and changes to offer virtual learning. Additionally, the uncertainty of campus education in the fall semester, and the COVID-19 impact on the local education system, caused the committee to defer all decisions until the fall review period. Committee members considered seven requests, mostly for Science, Technology, Engineering, and Math (STEM) programs.
Member expressed concerns over sanitization procedures for the materials and the actual number of students in the physical classroom, which were answered by the grant writers prior to funding approval. CPAs Helping Schools awarded funding for these six programs: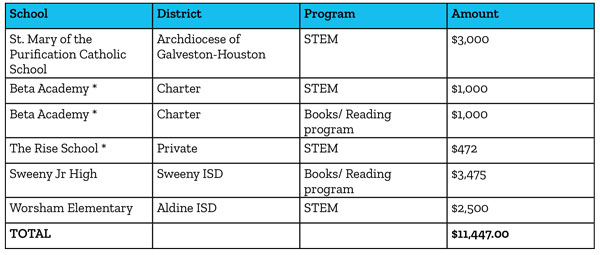 *prior grant recipient
Since the formal grant process began in 2002:
Over 600 grant applications were reviewed,
Over $550,000 was awarded,
To over 200 schools,
In 35 local districts, and private, parochial schools and nonprofit educational organizations.
In addition to providing education basics for at-risk youth, the financial support continues to establish initiatives including math, technology, and literacy programs, library improvements, science materials, resources for after-school programs, fine art programs and health awareness.
CPAs Helping Schools can help the scores of local schools with such a variety of programs, thanks to 1) your generous financial support and 2) the magnificent group of volunteers that donate two hours at each grant meeting to participate and make the required decisions.
In this new year, the committee needs more of both!
The committee continually looks at rebuilding their coffers to enable them to assist the many schools in need that request financial and volunteer assistance with their educational projects, which encourage education and academic excellence in students of all ages.
THANK YOU for your past contributions, either through voluntary contributions or through financial support of our Scholarship Extravaganza. A portion of all net proceeds of this annual event went to the grant program through 2020.
In 2021, CPAs Helping Schools is seeking new capital from private and corporate foundations to provide funding in support of the grant program, originally endowed in 1996 with a mission to provide educational resources to at-risk youth.
If you or a peer serve on a nonprofit board that provides a grant opportunity, please introduce a CPAs Helping Schools volunteer or staff person to the organization. A request for a grant application submission from the TXCPA Houston Foundation is the first step towards CPAs Helping Schools making a viable connection with a potential funder.
If you would like more information about grant applications, or donating your valuable volunteer time, please contact Membership Manager Carol at cspencer@houstoncpa.org.