College Accounting Case Competition Offers Real-world Experiential Learning! Register by FEB 28
Published on

Feb 24, 2021

by

User Not Found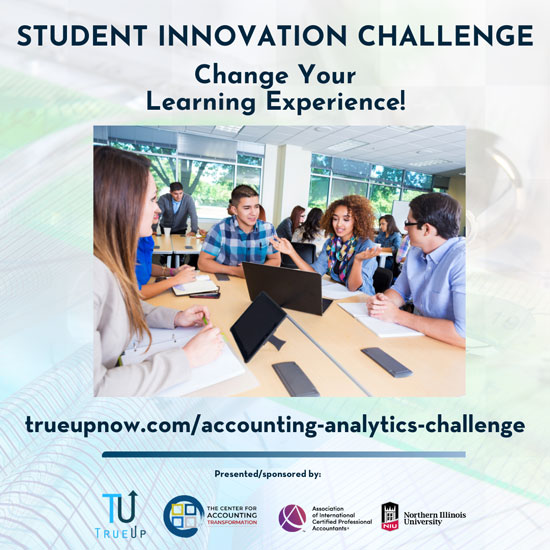 The Center for Accounting Transformation is pleased to share the following information about an exciting Data Analytics Case Study Competition being offered for college undergraduate students in partnership with Northern Illinois University and TrueUp.
Data analytics is a critical part of having success in the business world. With automation and emerging technologies coming to the forefront, skillsets required by employers are being redefined and students need to be ready to compete. Through this unique accounting data analytics competition, students will use data analytics tools to analyze raw data sets for their client in order to dig for insights, discover alternative metrics, and decide on new ways to measure the company's performance.
The 2021 Student Innovation Challenge is a FREE competition open to currently-enrolled undergraduate students at two-year and four-year accredited colleges, community colleges, and universities both nationally and internationally.
Students can compete as teams of two, three or four members. All major disciplines are welcome, however 50% of the team must come from an accounting-related major. A faculty advisor is highly recommended, but not required for participation.
The top three teams will be recognized with financial awards sponsored by the AICPA as follows:
$1,000 First Place Team
$800 Second Place Team
$600 Third Place Team
Registration is now open and entries will be accepted through Sunday, February 28, 2021. The challenge will begin March 12, 2021.
Click here to learn more about the competition, including qualifications, key dates and competition format. This is also the site where you can have your students register for the challenge.
If you have any questions, please contact play@trueup.co for more information.