Y-O-U-N-G Professionals Committee Hosts B-I-N-G-O Fundraiser!
Published on

Apr 7, 2021

by

Carol Spencer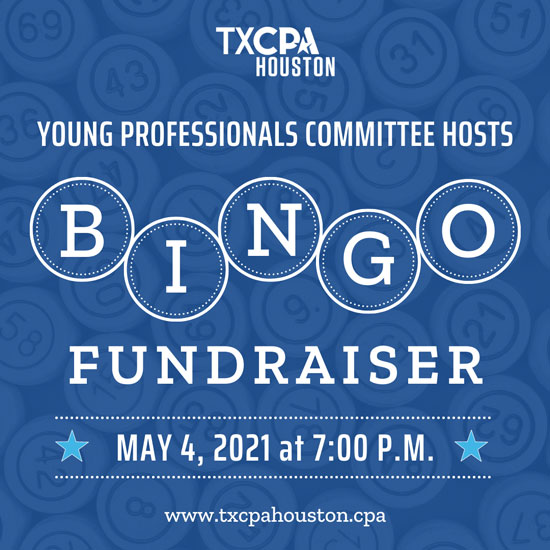 The Young Professionals group invites you to be a participant in our bingo fundraiser on Tuesday, May 4, 2021, from 7:00 – 8:30 p.m. to raise funds for accounting scholarships. As committee members, our time is limited; in a few short months, there will be new members. How can we encourage others to be involved in the Young Professionals group? Why should they be involved?
Each of us has different reasons for being involved, but we all agree on one: community. We want to be a part of something greater than ourselves, we want to develop relationships. That is why we are focusing on scholarships, for today's students and tomorrow's young professionals. So, please join us for a fun evening of digital Bingo as we raise funds for a cause that goes beyond just this evening.
$5.00 a card and you can purchase as many cards as you wish. The games will continue for three rounds and prizes will be awarded to winners of each round!
Remember, this will support your Accounting Scholarship program at TXCPA Houston!
Also, you can have a chance to win great prizes! Raffle tickets will be available in advance and you have a chance to win great prizes:
45-minutes private golf lesson Foursome round of golf at Riverbend Country Club in Sugar Land (cart fee not included)
Two tickets to Oktoberfest in Houston
Individual registration to any league with Houston Sports and Social Club
$25 gift card to Wakefield Crowbar and a two-hour sand volleyball court rental
Raffle tickets are also available at https://go.rallyup.com/txcpahouston-yp.
For more information, contact Membership Manager Carol Spencer at cspencer@houstoncpa.org.