Meet Our New 2021-2022 Student Auxiliary Officers
Published on

Jun 29, 2021

by

Carol Spencer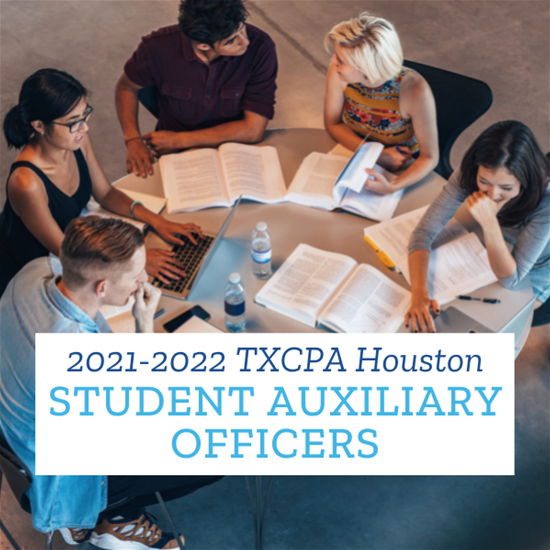 TXCPA Houston announces the 2021-2022 Student Auxiliary officers. After recent interviews with current officers and our Student Auxiliary Steering Committee, these outstanding students have accepted officer positions for the new fiscal year:
President: Jonathan Gibson, University of Houston
Vice President Development: Ekaterina Lyubomirova, University of Houston
Vice President Marketing: Anna Guo, Houston Baptist University
Vice President Operations: Connor Clancy, Sam Houston State University
The Student Auxiliary Steering Committee works with the officers to educate, inform, and lead by creating an environment of support for students to transition into accounting professionals.
2021 – 2022 Student Auxiliary Steering Committee Co-chairs:
Shayan Baig, CPA, EY
Manu Sadiev, CPA, Briggs & Veselka Company
The officers and committee anxiously await their July planning retreat and will have their preliminary virtual event calendar ready in early August.
If you would like to participate as a panelist or would like more information about the programs, contact Membership Manager Carol Spencer.