Why Specialization Is the Key to Firm Growth
Published on

Oct 4, 2021

by

Kalil Merhib, VP of Sales, CPA.com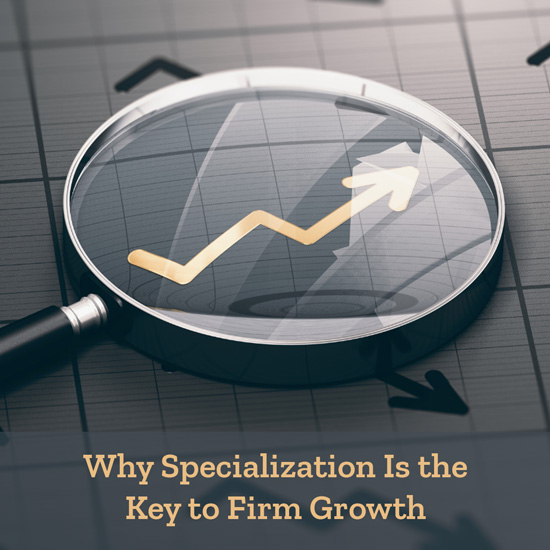 We're living in a world where personalization and custom offerings are a must-have for today's sophisticated customers. Think about it: From the "suggested content" that appears in your favorite streaming platform to the personalized health reports from your smartwatch or workout bike, the world is becoming increasingly tailored to meet our personal needs and preferences. Within the accounting profession, leading-edge firms have been quick to adapt to the idea of delivering tailored service offerings for clients. These firms are moving away from "generalist" services to practice areas specializing in one or a few industry verticals so they can offer clients deeper expertise and strategic guidance through insights such as industry KPIs, benchmarks, and business strategies.
Types of Niches
Building and growing a niche practice offers many benefits, but before I dig into those, let me first explain more about the two primary areas of specialization for CPA firms — practice area and industry vertical.
Firms that specialize in practice areas have expertise in how to offer and implement a particular service offering. Financial Planning, Client Advisory Services (CAS), Sales & Use Tax and Cybersecurity services are examples of niche practice areas.
CPAs that specialize in industry verticals have deep expertise in advising businesses in a particular market segment. Some examples of industry niches include: restaurant/hospitality, agricultural, financial institutions, real estate, healthcare and professional services.
Some firms have gone so far as to specialize in both a practice area and industry vertical, positioning themselves as leading subject matter experts in particular industries for specific services. For instance, a firm might specialize in outsourced accounting & CFO services for microbreweries, or SOC examinations for SaaS technology companies.
In CPA.com's 2020 CAS Benchmark Survey, top performing CAS practices reported professional services, nonprofits, health care facilities, family offices and wholesale distributors as the top five industries served.
Increased Efficiencies
Regardless of whether your firm decides to specialize in a practice area or a vertical or both, one of the key benefits is the opportunity to gain numerous operational efficiencies.
As you and your staff are focused on just one industry or practice area, you'll have more capacity to truly understand your client's business – the important trends and sector disruptors, as well as their customers and competitors. You'll also be better positioned to invest in new technologies and systems that create and enhance efficiencies, such as automation. Since multiple clients will benefit, you can justify the time and expense associated with implementing new technologies.
Firm specialization also makes your job as a marketer easier—and more effective. You'll know the right language to use when targeting prospective clients and will achieve a higher return on investment on your marketing spends because you're focusing on the right messaging, channels, and keywords.
Improved Quality
Specialists create higher quality output – it's no secret. By focusing on a specific service line or industry, you naturally establish a body of knowledge and deep expertise from your experience and repetition. This also results in a more consistent and quality work product and ability to spot errors when they arise.
Technology also helps drive quality. Whether you automate work deploying robotic process automation (RPA) or other capabilities such as machine learning and artificial intelligence to process industry specific data, you remove the human (mistake-prone) element from the process, thereby increasing quality. Technology can also help ensure that work is done according to both the profession's standards and your firm's own standards of excellence. An exemplary adoption of technology to improve quality can be seen in the Accounting & Auditing world by examining how OnPoint EBP works. Through OnPoint EBP, a cloud-based solution for performing employee benefit plan audits, firms enter plan data into a profile and then the technology uses logic to drive the content for the audit accordingly. This process not only optimizes work, but also promotes high quality outputs. You and your team should be looking for this level of connectivity when evaluating technology solutions.
Greater Value
One of the key benefits of specialization is the ability to deliver clients insights on how their KPIs compare against industry benchmarks. Restaurant clients, for example, would be interested to know their competitors' average check amount, tables turned per hour, peak traffic by meal and the takeout versus dine-in variation by day or time. Likewise, subscription or SaaS-based companies might want to see how they stack up against their industry's customer acquisition cost, lifetime value of customers, customer churn, and more. As a subject matter expert in your client's industry, you'll be well-versed in benchmarks, putting your services in high demand and positioning you well to charge a premium fee.
Creating a Niche Practice
If your firm is offering general accounting services to a broad array of clients across a variety of industries, now is the time to take steps to assess how to focus on a few key specializations. Consider these strategies to establish a successful practice in a specialized area:
Assess your resources before specializing. Ensure your firm has the presence and reputation to specialize without overextending you or your staff. Also explore opportunities to partner with other firms to build a niche.
Be strategic in selecting your niche. Analyze your revenue to see if a particular type of client or industry is making up a significant portion of your revenue – then spend more time developing business in this area. Consider also building a niche based on you or your firm's interests or hobbies – passionate employees deliver the best work.
Establish yourself as a subject matter expert within your niche. Learn the issues impacting your niche clients – and then create a solution. Seek out opportunities to be a guest speaker or author for industry events or publications. Regularly network with other service providers serving the same industry.
Ensure firm alignment around the niche. While your firm may have a several focus areas, it's important that partners and staff understand the strategic vision and goals for the niche practice. To identify staff, it's not necessary to recruit those with your niche industry knowledge. Hire smart people and then teach them the industry.
Promote your niche. Don't just rely on your reputation – branding and marketing should be critical components of your outreach strategy. Many niche practices have also secured their preferred .cpa web domains, including dentist.cpa, church.cpa, and forensics.cpa, to promote their firm's services to target clients.
For more tips and strategies on how to accelerate your firm's journey towards a thriving niche practice, please email Kalil Merhib.

This is article is published in the October/November 2021 Forum. Read the full magazine here!
---
About the Author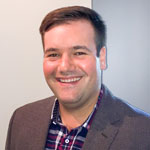 Kalil Merhib leads the sales organization at CPA.com, the technology arm of the Association of International Certified Professional Accountants (AICPA & CIMA). He is responsible for developing and executing a go-to-market strategy for the organization's product and services business lines to the CPA profession and adjacent professional markets.