Member Spotlight: TXCPA Houston Student Auxiliary President Jonathan Gibson
Published on

Feb 11, 2022

by

Michelle Carr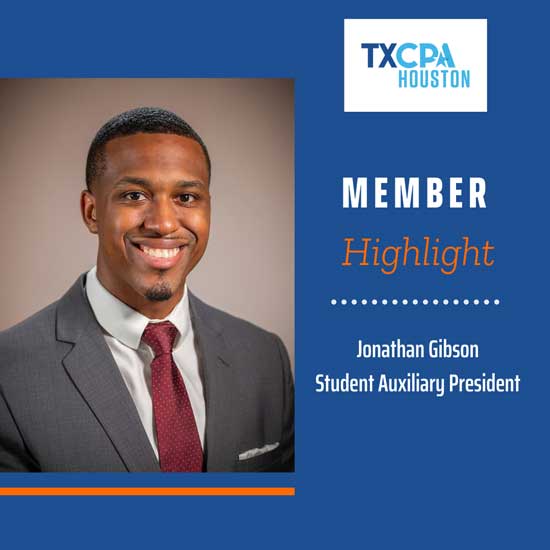 x
Members are the heartbeat of TXCPA Houston. Remaining a thriving organization for CPAs and their supporters requires the Society to value all its members' diverse contributions and talents. We are committed to promoting diversity, equity, inclusion, and a sense of belonging in the workplace, in membership, and the accounting profession. TXCPA Houston has built a community that helps CPAs develop their professionalism, exchange knowledge, and be assured they have a powerful advocate to protect and support the advancement of the CPA profession.
At the January 5 Open House, two remarkable members attended who captured the essence of TXCPA Houston's diverse and inclusive spirit: Huandong 'Mary' Faris, CPA, and Jonathan Gibson, TXCPA Houston Student Auxiliary President. Their passion for TXCPA Houston, commitment to the CPA profession, and journey to progress in their careers will hopefully inspire you to take your next step with TXCPA Houston.
Jonathan Gibson became a TXCPA Houston member in May 2021 and currently serves as President of TXCPA Houston's Student Auxiliary. His first encounter with TXCPA Houston was through an email from Carol Spencer announcing open leadership positions within the Student Auxiliary. After reviewing the openings, Jonathan recognized the leadership opportunity to grow as an accounting student and professional. Also, he saw TXCPA Houston as a path to make connections within the Houston area, a goal of his after moving from Marrero, Louisiana, to Houston in April 2019.
Jonathan said, "My first impression was how encouraging the SAUX Steering Committee is in assisting and developing students by challenging members to provide quality content to the students. Our events are tailored to give students insights into current working professionals' day to day schedules, so we want to ensure we ask the right questions. I believe these experiences challenged myself and my team to meet the expectations of the committee."
At the first Fall 2021 semester event, Jonathan was nervous about being a moderator. He overcame his fears of public speaking and gained confidence in moderating after receiving excellent feedback from the committee and other attendees. His advice for students is to start building connections for their careers early; don't wait until after graduation to network. TXCPA Houston offers students many professional development opportunities through service on committees. The value comes in the quality of connections made within the Society and gaining people in your corner who want to assist students' professional development.
Jonathan's best member experience is "Getting to work with my SAUX team members and discovering what their strengths and weaknesses are. Each member has contributed uniquely, and I believe we had a great team this year. I enjoyed most working with the committee and other SAUX members to find resolutions on the few bumps we had this year. We brainstormed and worked as a cohesive team to correct our mistakes."
Jonathan's most prominent career goal is to attain his CPA license (he began studying for the CPA exam in January 2022). He would like to own an audit shop where he provides an array of services to his clients. Jonathan believes attaining his CPA license will give him the confidence to face other challenges that come with life. He observed, "To be a CPA requires discipline and sacrifice as well as an unwavering desire to learn how to ensure the best value for the client."
Jonathan uses his doubts as motivation to prove that nothing in his life is out of reach. He noted, "I am proud of the work and position my career has taken, proud of my development as a student at UHD, proud to say I led the SAUX team for TXCPA Houston, and proud to be joining Deloitte this summer. These are all accomplishments I saw as opportunities to challenge myself. I've learned in life it is best not to prove your doubters wrong but prove yourself to be right."
Jonathan learned this valuable lesson from his upbringing. He is the second oldest of four boys. His parents made substantial financial sacrifices to raise four boys and invest in their education. As an undergrad, Jonathan did not appreciate his gift of an education and struggled academically. This led to personal doubts about his performance and value within the profession after graduating from Nicholls St. University in December 2015.
However, Jonathan's mother always said, "Gotta make the doughnuts." She related this saying to doing the "necessary work" to provide for her family no matter the obstacles or challenges her job/day provided. Jonathan internalized the expression as doing the "necessary work" to tackle his biggest life challenges. The necessary work included more consistency, focus, and discipline. Since undergrad, Jonathan has sought to cultivate these traits and see growth within TXCPA – Houston as the "necessary work" and advantage to his development as a professional.
On November 18, 2021, Jonathan became a first-time father to a baby boy named Jayvian Lee Gibson. Jonathan now has a new motivation to achieve his goals. "I want to accomplish my personal goals to encourage him too, in his unique way, and stand up to his future challenges."
One key mentor, a former manager, named Gary Joseph, Partner at DAS, helped guide Jonathan along his professional journey. Gary represented the standard or quality of professional Jonathan admired to become. After learning more about Gary's background, Jonathan related to Gary's stories. They developed not only a mentor-mentee connection but also a friendship. They both live in Houston now and meet up frequently. Jonathan appreciates the support, inspiration for growth, and great advice Gary contributed to the early stages of his career.
Jonathan is currently in his 2nd year of graduate school at the University of Houston-Downtown with several years of professional work experience in audit. His message to others is, "Do not run from the challenge of juggling school, work, and commitment to the Society or your professional development. Give an honest assessment of what is important to you and your career, and do not overcommit yourself. Communicate with your team about the time you have to offer."
As a graduate student, president of the Student Auxiliary, member of TXCPA Houston, and new father, Jonathan says time management and communication are the most effective skills to navigate his full plate. As circumstances change, he is mindful not to overcommit his time to one task and communicates with his SAUX team, employer, and wife.
Jonathan's other affiliations include the UHD NABA - External Relations Chair and the Institute of Internal Auditors - Academic Relations - UHD. He is always seeking to grow and enjoys meeting new people. In his opinion, "You never know what you will learn from anyone, but strategically developing relationships with the right people can accelerate your career and life."
Therefore, students should become members to take advantage of the network available through TXCPA. TXCPA Houston is the largest chapter within TXCPA. A wealth of experience and knowledge is available to students who desire to be a CPA.
Click here to take your next step with TXCPA Houston and learn how to get involved today!
---
Originally published in the TXCPA Houston's Online Magazine called the Forum. Read the full magazine here.