Member Spotlight: Huandong 'Mary' Faris, CPA
Published on

Feb 11, 2022

by

Michelle Carr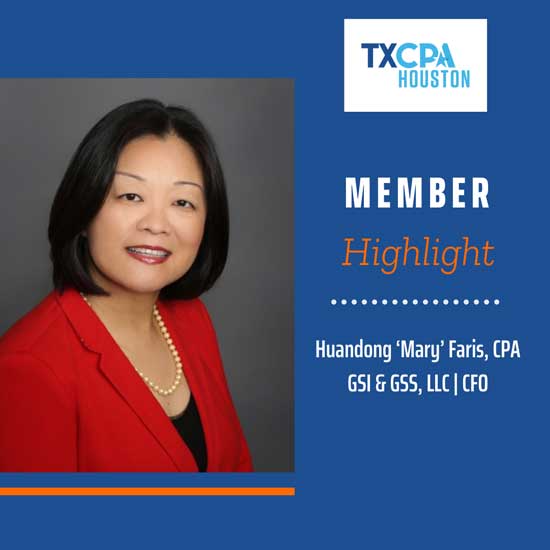 x
Members are the heartbeat of TXCPA Houston. Remaining a thriving organization for CPAs and their supporters requires the Society to value all its members' diverse contributions and talents. We are committed to promoting diversity, equity, inclusion, and a sense of belonging in the workplace, in membership, and the accounting profession. TXCPA Houston has built a community that helps CPAs develop their professionalism, exchange knowledge, and be assured they have a powerful advocate to protect and support the advancement of the CPA profession.
At the January 5 Open House, two remarkable members attended who captured the essence of TXCPA Houston's diverse and inclusive spirit: Huandong 'Mary' Faris, CPA, and Jonathan Gibson, TXCPA Houston Student Auxiliary President. Their passion for TXCPA Houston, commitment to the CPA profession, and journey to progress in their careers will hopefully inspire you to take your next step with TXCPA Houston.
Mary Faris began her career as an accounting assistant at a small local healthcare company during her last semester as an undergraduate at UH-Downtown. Over the ten years Mary worked with the company, she gained business management acumen, attained her CPA license, and earned an MBA in Management from UH-Victoria. In 2015, Mary transitioned to Houston Methodist's corporate finance department. Her time at Houston Methodist provided exposure to the corporate culture that pushed her to develop new skills and work under pressure.
At GSI & GSS, Mary utilizes the experiences from her former employers in her current role as CFO. GSI & GSS operates thirty-eight stores catering to Special Supplemental Nutrition Programs for Women, Infants, and Children ("WIC") in Greater Houston, Brownsville, and El Paso.
Mary attributes attaining her CPA license as the turning point in her career. Her colleagues warned her that the exams were difficult, so she took preparation seriously. It was a significant boost to her confidence when she passed all four parts and became a Certified Professional Accountant. Mary noted, "Earning my MBA in Management was a close second. I knew they were important milestones in my professional development, but at the time, I did not know that they would end up defining me in some ways for the rest of my life."
After Mary received her Texas CPA license in 2008, she joined TXCPA and TXCPA Houston. Her first impression of TXCPA Houston was positive, which prompted her to get involved. She was impressed to see many experienced CPAs from various industries. Although many were already leaders in their fields, it was inspiring that they still found value in TXCPA despite their accomplishments. Now, she is good friends with many of them. Mary stated, "TXCPA offers the continuing professional education and connections that a CPA needs to grow. It is not enough to be an expert when no one knows who you are, nor is it enough to know a lot of people but not have any expertise to offer them. Through TXCPA, CPAs can build strong networks beyond their current jobs and meet other CPAs who can teach them and introduce them to new opportunities."
Mary strongly believes in the benefits of volunteering and being involved in organizations that support women in the accounting and finance fields. Her professional affiliations include TXCPA Houston, a chapter of the Texas Society of Certified Public Accountants (member of CFO/Controller Conference Committee), Federation of Houston Professional Women (President-Elect 2022), Accounting & Financial Women's Alliance (CPE Director), and UH Alumni Association Fort Bend Scholarship Committee (Committee Chair). Mary noted, "I think the key to creating more diversity and attracting more women to accounting and finance is to highlight the stability and opportunities for advancement within the industry. The skills are highly sought after and transferable. Private business, government, and nonprofits all need CPAs." She also mentioned that women could find support, understanding, and encouragement from other women in the same field.
Mary credits several women leaders who have helped her on her career journey. "I admire Jill Almaguer and Liz Cloud, who are both past presidents of the Federation of Houston Professional Women. Jill and Liz mentored me and encouraged me to take on more leadership roles. Ellie Moore, Colene Blankinship, and Joan Straub, the past presidents of Accounting & Financial Women's Alliance, have also been on my side and pushed me to do more. They all helped me to believe in myself and continue their work of empowering other women." Mary's advice is to take advantage of continuing education to better yourself and find a mentor who knows your industry.
Mary's favorite quote by Michelle Obama says, "There is no limit to what we, as women, can accomplish."
Click here to take your next step with TXCPA Houston and learn how to get involved today!
---
Originally published in the TXCPA Houston's Online Magazine called the Forum. Read the full magazine here.