Building the Pipeline of Future CPAs
Published on

Apr 14, 2022

by

By Carol Spencer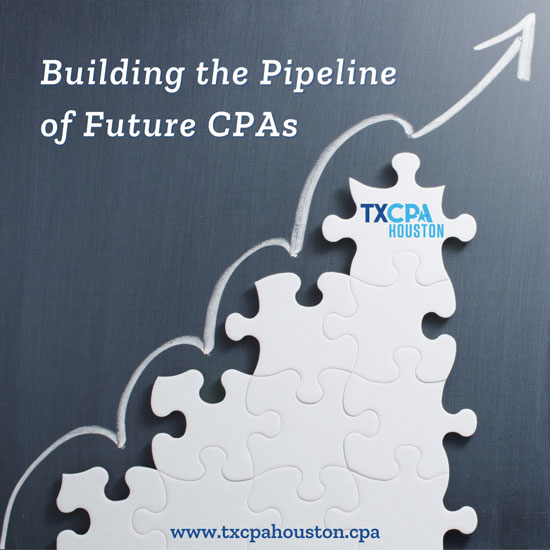 Many industries struggle with their pipeline today and how to engage graduates in their profession. The accounting profession is a prime example of the struggle.

The road to leading students to pursue their certification is lengthy and requires many rewarding volunteer hours.
Here are a few examples members can aid in building the pipeline of future CPAs:
3rd Grade – a CPA tells students about simple budgeting.

5th Grade – a CPA shares exciting stories about their career path.

8th Grade – a CPA discusses different industries that need a CPA and how income can provide the life the student perceives rewarding.

10th Grade – a CPA visits the Business Class and shares basic Excel tips and career information, including the annual income of a CPA –Food for thought!

University – a CPA at the Career Fair speaks with students about the profession, the earnings, the reasons to acquire the necessary hours to sit for the CPA exam.

University - CPA panelists share their stories and career paths with Student Auxiliary attendees. Young Professionals Committee encourages students to join and meet recently-licensed CPAs and share their struggles – Stay the course!

Graduates – Young professionals and others mentor recent graduates and keep them involved in TXCPA Houston.

CPA – newly-licensed CPAs join the Society and become involved while moving forward in their career.
YOU CAN HELP tomorrow's CPA today:
CPAs Helping Schools (CHS)
– provides educational materials through an established grant program for PreK-12. Volunteers speak to elementary and middle school students to seed the thought of an accounting career. Volunteers review grant applications twice
a year and follow up with funded schools to see the program in action.
Accounting Career Education (ACE) - volunteers speak
to high school and college classes about accounting careers. Volunteers make short videos and share them with local educators to show in their classrooms. Volunteers host the TXCPA Houston table at middle school and high school career days and university career fairs. The ACE committee, TXCPA, and AICPA provide PowerPoint presentations and other materials.

Student Auxiliary (SAUX) Steering Committee – a small group of professionals works with the Student Auxiliary officers to plan the year's events. CPA volunteers serve as panelists to share knowledge of different career paths a student might pursue. SAUX provides six or more programs each semester for university-level accounting students.

Accounting Scholarships Committee (ASC) –volunteers meet one or two times each Spring to review applications and award scholarships to fifth-year accounting students. Scholarships are available to students from nine universities and two community college systems in the TXCPA Houston membership area.

Scholarship Extravaganza Committee (SEC) – plans and executes annual gala that benefits accounting scholarships

.
JOIN one of these committees to help in building the pipeline of Future CPAs!
Contact Membership Manager Carol Spencer at cspencer@txcpahouston.cpa, or complete the volunteer form online
here to get involved today!
This is article is published in the April/May 2022 Forum. Read the full magazine here!
---
In the Forum