Member Profile:
Elena Levario, CPA – Permian Basin
Assistant Controller at West Texas National Bank
Spanish Heritage Month
October 2020
1. Where are you from and where did you grow up?

Although I grew up in the "dream-filled promised lands" of the United States from the early age of five, I was born in the "beautifully enchanted lands" of Mexico, right across from the Rio Grande River that divides the lives of its residents in a distinctive manner. I am an immigrant and a very proud one.
2. At what point in your life did you know you wanted to be a CPA?

A career in medicine is what I always aspired to while growing up. That goal persisted until I was about two semesters away from graduating as a registered nurse. Then I decided I wanted to go a different route and get a finance degree. To help fund my nursing school education, I had to work and while working at a local bank, my outlook changed. I saw people dressed elegantly and speaking eloquently. I wanted an opportunity for that life. I graduated from nursing school and changed paths by enrolling in business classes. While taking some basics, an accounting professor was instrumental in describing the importance and versatility of the accounting profession versus a general business or finance degree. He made such a compelling argument that I found myself changing my major to accounting. After a few more classes, he emphasized the importance that a CPA designation has in opening doors and creating opportunities. I believed him then and I most certainly believe him today! Dr. Greenfield will forever have my gratitude.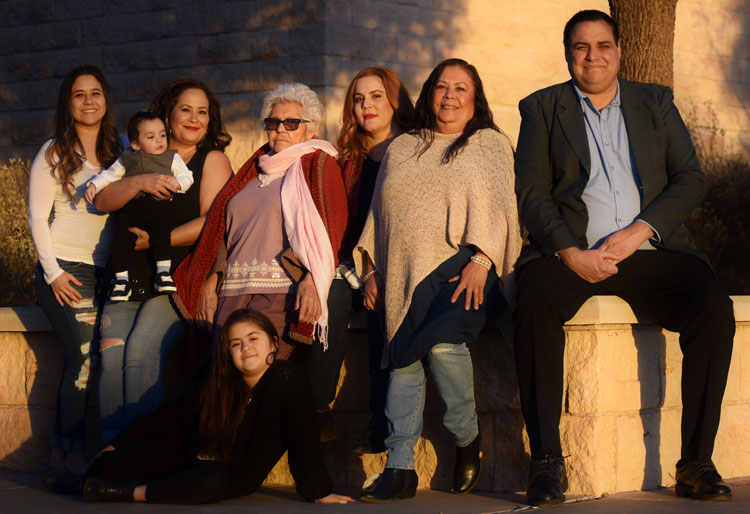 3. How has your Hispanic heritage shaped your perspective and influenced your career as a CPA?
Mexico is a beautiful country and I love my heritage. I come from a family with humble beginnings and little to no educational backgrounds. We were not affluent. We had an adobe house with no running water and no inside bathroom. Once we immigrated to the U.S., the job opportunities my family members had were low paying and backbreaking. I soon realized that while I had very hard-working members in my family, they didn't earn top wages. That was reserved for people with an education. In the U.S., my family worked construction, restaurant and janitorial/housekeeping-type jobs.

I recall my mother working at McDonald's and taking us to my aunt's house at 4:30 a.m. so she could be to work by 5 a.m. She also cleaned houses and company offices for many years, which allowed her a glimpse into people's wealthy lives. We joined her on many occasions, especially when she cleaned company offices at night. We helped. I realized it was hard work! She inculcated us to appreciate school and pushed us to do well so that we might have further educational opportunities.

I enjoyed school (and still do). I am not a genius and do not have an eidetic memory. I had to work hard and, again, I still do. All of this makes me appreciate the CPA designation so much more! It's not just an "extension" of my name. It further enhances my name and my image. It affords me a level of prestige and immediate respect from people I meet. It speaks for me without me having to open my mouth to speak on my behalf. It has absolutely allowed doors to open that would have remained shut if not for the CPA license. Being a CPA has not only enriched my life personally but also professionally.


4. What do you love most about your Hispanic heritage?
We are a tight-knit group of people, culturally speaking. We have big families, and we are always together and looking for more reasons to be with each other. We are very family oriented and will always take care of our elderly and our young. It isn't unusual for young people to live with their parents until they marry. I love that about us!

I love our Quinceañera tradition of presenting a lady into society. I LOVE our food! If you know me personally, you probably already know this. I believe our food is one of the greatest offerings our culture and our heritage has gifted the world. I love our music. Mexican music is so varied, from the traditional Mariachi to Banda, Tejano and even Norteño styles. I love that I can share that part of our heritage with my friends, co-workers and fellow Americans.

5. What is your best piece of advice for all Hispanic women and men out there trying to go after their career dreams?
Being a female can be difficult because, while there are beautiful traditions in our heritage, there are also some that might stifle a young woman's aspirations for education. We have responsibilities at home to our children, our parents and even to our aging and ailing grandparents. The old-fashioned tradition that a woman's role is a homemaker could be hard to overcome, but not impossible! Make the choice to do something for you.

I learned the hard way that not all children will have two-parent homes. Some will be the daughters of a single mom or dad. I have always believed that education is something no one can take from me. Marrying well is wonderful, but it's not always possible. Many times, marriages fail. Or worse, maybe there was an injury or death and the mother is left alone to care for children with a low-paying job. If we educate ourselves for "ourselves," we can sigh in relief knowing that we will have a way to take care of our family. Becoming a CPA did that for me. I had the mindset that I didn't "need" to get married or "need a husband," but rather I "want" that and if it happens, great! But in the event it doesn't or things go awry, I have a wonderful professional option that will help me take care of me.