2018 AICPA PCPS/CPA.com National MAP Survey Results
We're excited to share the results of the AICPA PCPS/CPA.com National Management of an Accounting Practice (MAP) Survey. The rich 20-year history of the National MAP Survey makes it the profession's premier benchmarking study.
In 2018, there were more than 1,900 responses nationally, a 28 percent increase in participation from the 2016 survey. Texas was well represented, with participation from 145 firms statewide. A streamlined survey from previous versions resulted in fewer questions – going from 250 to 50 – a significant reduction from years past.
Key metrics can assist you in identifying actions and developing a plan for taking your firm to the next level. See how your firm measures up using targeted and relevant practice management benchmarks, including billing rates, chargeability ratios, compensation, staffing metrics, trends in your firm's data, and other key performance indicators. The financial measures can help identify areas of interest and provide strategic insights for profitability, growth and development
A few key overall nationwide insights from the survey show:
Firms continuing to experience growth;
A strong movement to value and fixed pricing, moving away from hourly based billing;
More firms obtaining insurance to cover cyber liability risk.
Texas Results
In Texas, the services cited being offered most often by respondents are advisory/consulting services (77 percent), client accounting advisory services (69 percent) and tax services (66 percent). The compensation for equity partners/owners is $264,333 for firms that are $1.5M+, $233,364 for firms between $500K and $1.5M, and $75,500 for firms less than $500K.
When billings as a percentage of total revenues were examined in the survey, 85 percent of all firms in Texas reported they continue to use hourly based billing. Firms in the $500K-$1.5M revenue range were the firms that most often reported using value pricing and value billing (35 percent) and they also reported using fixed pricing (40 percent).
Figure 1 shows the average billing rates in Texas per position. Nationally, the average rate for equity partners/owners is $224.
In Texas, the average billing rate ranges from $225 per hour for equity partners/owners to $60 for interns.
The average chargeable hours nationwide for equity partners/owners is 1,191. In Texas, average chargeable hours range from 1,171 for equity partners/owners to 1,030 for interns. Please see Figure 2 for the breakdown by position in Texas.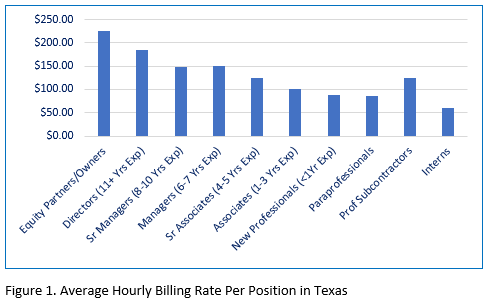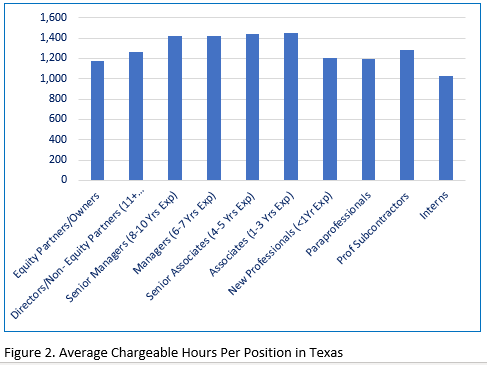 Other key metrics covering an extensive range of topics are available in the survey reports. The information gathered in the survey is incredibly useful for firms of all sizes to consider how they compare to their peers.