March/April 2022
---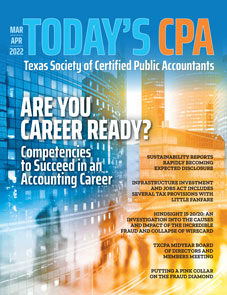 Featured Article
Are You Career Ready?
So called "soft skills" are key indicators of career readiness and predictors of a successful transition into the workplace for recent college graduates. Readiness for an accounting career demands a skill set beyond the material taught from a textbook in the typical undergraduate accounting programs.
Read More
Download Issue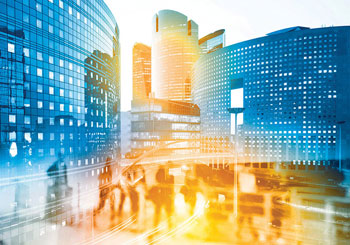 Advancing
IN THIS ISSUE
---
Are You Career Ready?
Sustainability Reports Rapidly Becoming Expected Disclosure
Hindsight is 20/20
Midyear Board of Directors and Members Meeting)
Infrastructure Investment and Jobs Act Includes Several Tax Provisions with Little Fanfare
CPE ARTICLE: Putting a Pink Collar on the Fraud Diamond
A Never-Ending Busy Season
Advancing

Sustainability Reports Rapidly Becoming Expected Disclosure

Although not part of the Securities and Exchange Commission (SEC) disclosure regime, the Sustainability Report is taking its place in what is rapidly becoming a triumvirate of reports that guide investors in their portfolio allocation.

Read More Download Issue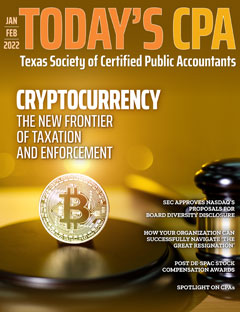 CHAIRMAN
Jason Freeman, JD, CPA
PRESIDENT/CEO
Jodi Ann Ray, CAE, CCE, IOM

EDITORIAL BOARD CHAIRMAN
Baria Jaroudi, CPA

Staff
MANAGING EDITOR
DeLynn Deakins

TECHNICAL EDITOR
Brinn Serbanic, CPA, CFP®
technicaleditor@tx.cpa

COLUMN EDITOR
Don Carpenter, MSAcc/CPA

WEB EDITOR
Wayne Hardin
DIRECTOR, MARKETING AND COMMUNICATIONS
Melinda Bentley, CAE

CLASSIFIEDS
DeLynn Deakins
Texas Society of CPAs
14651 Dallas Parkway, Suite 700
Dallas, Texas 75254-7408
972-687-8550
ddeakins@tx.cpa

Editorial Board
Arthur Agulnek, CPA-Dallas
Shivam Arora, CPA-Dallas
Aaron Borden, CPA-Dallas
Don Carpenter, CPA-Central Texas
Melissa Frazier, CPA-Houston;
Rhonda Fronk, CPA-Houston
Aaron Harris, CPA-Dallas
Baria Jaroudi, CPA-Houston
Jennifer Johnson, CPA-Dallas
Joseph Krupka, CPA-Dallas
Nicholas Larson, CPA-Fort Worth
Anne-Marie Lelkes, CPA-Corpus Christi
Randy Lokey, CPA-Dallas
Alyssa Martin, CPA-Dallas
Stephanie Morgan, CPA-East Texas
Kamala Raghavan, CPA-Houston
Barbara Scofield, CPA-Permian Basin

Design/Production/Advertising
Media By Design, LLC
mediabydesign@gmail.com
CONTRIBUTORS
Melinda Bentley; Roxanne LaDu; Holly McCauley; Craig Nauta; Kari Owen; April Twaddle; Patty Wyatt