Robert Owen Memorial Scholarship Fund
Support Future CPAs in Memory of TXCPA Leader
The TXCPA Accounting Education Foundation has established a special scholarship fund to honor the memory of Robert "Bob" Owen, CPA and leader and advocate of TXCPA and the accounting profession. This fund will help support deserving accounting students on the path to becoming Texas CPAs.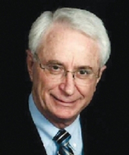 Your support with a tax-deductible contribution will help the Foundation in their pursuit of enough contributions to establish a permanently endowed scholarship in Owen's name and help future generations of CPAs in his memory.
Owen's career and service to the profession spanned decades. He graduated from SMU with a degree in accounting and began a highly successful career at Alford Meroney & Company, where he worked his way up to managing partner, when the firm merged with Arthur Young. Owen remained at the firm through its transition to Ernst & Young and retired in 1998.
He was a passionate volunteer with TXCPA throughout the years, serving as president of the Society in 1994-1995 after actively participating on numerous Society committees and councils. When he retired from his firm in 1998, he began his second career by joining the TXCPA staff as managing director of governmental affairs. He held this position until early 2017 when an illness forced him to retire. His hard work and dedication to our advocacy efforts have left an indelible impact on all Texas CPAs. In addition, his quick wit and sense of humor made him a favorite among both TXCPA members and staff.
Your gift to the Robert Owen Scholarship Fund can be made online below or by mail. Checks should be made payable to the TXCPA Accounting Education Foundation and mailed to:
TXCPA Accounting Education Foundation
14651 Dallas Parkway, Suite 700
Dallas, TX 75254
Please indicate in the memo portion of the check "Robert Owen Scholarship Fund" so that the money is appropriately set aside.
Thank you for your gift in memory of our wonderful friend and colleague.