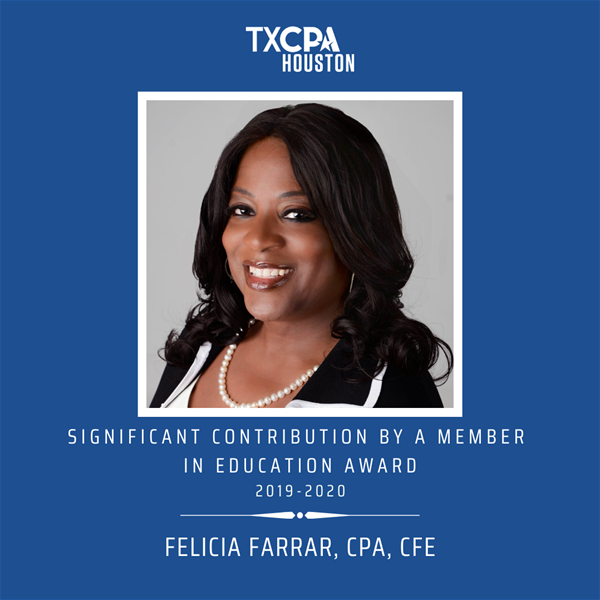 Felicia Farrar, CPA, CFE
TXCPA Houston 2019-2020 Significant Contribution by a Member in Education Award Recipient
Felicia serves as a national director of NABA and works with the Accounting Career Awareness Program (ACAP), a career development program for ethnic minority high school students. In 2019, Felicia facilitated the visit of the ACAP camp students, in conjunction with the Houston chapter of NABA and CPAs Helping Schools, to TXCPA Houston to learn more about career opportunities in accounting.
Felicia, a 15-year veteran of the Internal Revenue Service (IRS), currently serves as an Internal Revenue Agent for the Large Business & International business unit. In this role, Felicia coordinates and manages examinations and investigations of complex federal income tax returns filed by large businesses. She has prepared, implemented, and monitored the agency's Internal Revenue Manual and has written numerous reports outlining complex financial tax law and interpretations. Felicia has also been published in several trade publications, including the Texas State Board of Public Accountancy's Report, Practical Accountant, and Compliance Week.
Felicia serves as a college adjunct professor at Houston Community College (since 2015) and was appointed by TSBPA to serve as an advisory member on the Continuing Professional Education Committee.
Felicia maintains an active presence on our Membership Development Committee to continue the chapter's focus on diversity and inclusion and works with staff to solicit additional members from the local university faculty.
Congratulations, Felicia!