Wolter Kluwer Member Benefit Update
Published on

Jul 18, 2023

by

TXCPA Houston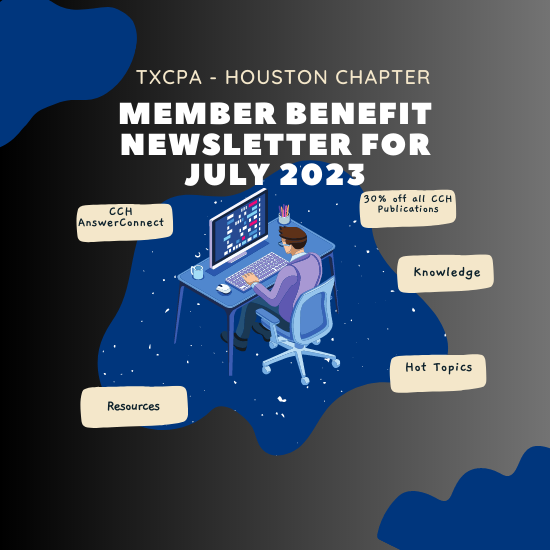 Early Bird Promotion is now live!! 30% off all CCH Publications till 9/30/2023 - use code: USTP-BLYY5457D30
In your tax and accounting research, you may have encountered an overabundance of articles and opinions, or spent excessive time sifting through information, only to feel overwhelmed and frustrated.
Your fresh eyes are only "fresh" for so long. Stop putting your work and business at risk of providing inaccurate guidance.
The first step to avoiding information overload? Find an intuitive and comprehensive tax research platform.
CCH AnswerConnect is the tool you need if:
• You care about your businesses' reputation. You won't risk giving your clients bad information.
• You prefer your information to be in a manner that is both effortless to read and comprehend while giving you the full 360° view on a given subject.
• You value expert, interpretive guidance and look for real-life examples.
• You like having everything in one spot — goodbye endless open tabs!
CCH AnswerConnect can make the difference in your peace of mind and take your business to the next level.
Additional CCH AnswerConnect benefits include:
Our unique Google® browser plug-in to dramatically improve your speed to answer.
Quick, time-saving explanations in easy-to-understand language.
Getting the most out of your state tax research with CCH® SmartCharts
Reducing your risk of getting bad information.
Article to Read
Overcoming complexity with integration and workflow technology
Why accounting firms need a strong strategic plan