2020 Scholarship Extravaganza - A Virtual Benefit on September 23!
Published on

Sep 16, 2020

by

Mark Allen, CAE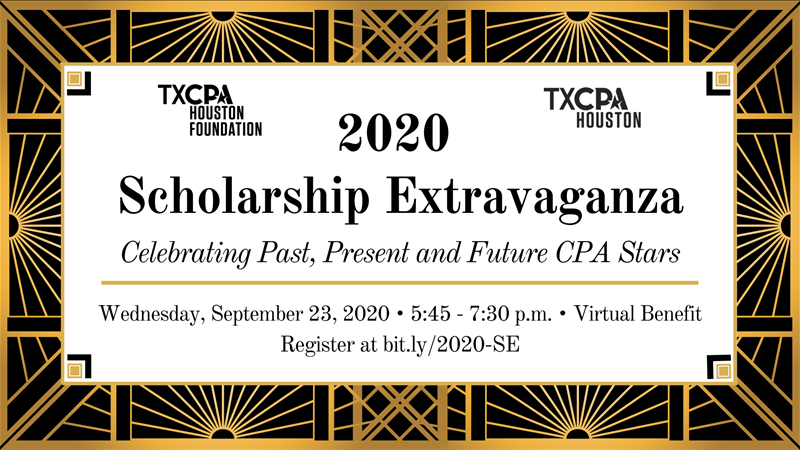 2020 Scholarship Extravaganza!

A Virtual Benefit for TXCPA Houston Scholarships and Community Support
And an Evening Honoring Roger Burks, CPA

September 23, 2020

5:45 p.m.
Doors open for casual conversation

6:00-7:00 p.m.
Words of inspiration from and about honoree Roger Burks, CPA Stories of how scholarships have touched future CPAs' lives The community impact TXCPA Houston members have had on local schools

7:00-7:30 p.m.
Breakout Rooms for extended conversations
Like you, TXCPA Houston's 2020 Scholarship Extravaganza needed to adapt this year to keep everyone safe from COVID-19. As a result, this year's event will be unlike any other. No driving across town. No uncomfortable clothing. No interruption of your weekend routine. And no registration fee!

That's right! We're inviting everyone to join the party and enjoy some virtual time together. An entertaining emcee will guide you through a fast-paced hour of inspiring stories and all the instructions you will need to take advantage of the evening's opportunities. If you choose, you may support TXCPA Houston's Accounting Scholarships and CPAs Helping Schools by voluntarily donating whatever amount is appropriate for you. Be sure to check out the Silent Auction for some great deals on items ranging from wine baskets to a children's cooking set. Even if you decide not to participate that evening, you'll have until October 1 to bid on items.

If you need inspiration to support TXCPA Houston's scholarship programs, listen to former scholarship recipients describe the difference a little help made in their lives during their journeys to becoming CPAs. Make no mistake: your donations directly impact the best and brightest students who are your future employees and co-workers.

Celebrate the career of the night's honoree, Roger Burks, CPA and be inspired by his contributions to the CPA profession as described by his friends and colleagues. Mr. Burks founded WG Consulting and serves as its Executive Managing Director. His LinkedIn profile provides a glimpse of his inspiring story and the lessons he's learned over a 30-year career: "Be true to who you are and want to be in this ministry of life, as it is more important than what you are, your profession you have chosen, or the status you have achieved."

At the conclusion of the program, stick around to catch up with old friends and make some new ones. You'll be invited into several breakout rooms that make it easy to meet and talk to people in a virtual setting.

Register (no fee)
Click here to register for the 2020 Scholarship Extravaganza at no cost. After registering, you will receive a confirmation email containing information about entering the event. The event will also be live-streamed on YouTube and Facebook.

Sponsors
This event would not be possible without the generous support of the following sponsors who believe in the CPA profession:
Magna Cum Laude:
EY
RSM US LLP/Carol & John Warley/KPMG Foundation
Cum Laude:
Briggs & Veselka Co.
Deloitte
John England/Paul Horak
Fitts, Roberts, Kolkhorst & CO., P.C.
Frierson Sola Simonton & Kutac PLLC
Goodman Financial Corporation
KPMG, LLP
Reed & Janet Wood
WG Consulting

Chancellor's List:
BKD CPAs and Advisors
Greater Houston Partnership
Lee & Desenberg, PLLC
Fred and Mabel Parks Foundation
Gail Neely/Dell Inc.
David & Lisa Pitts

Dean's List:
Tom and Nancy Bewley, Blomstrom Financial Services, David Donnelly, DWG CPA PLLC, Jeff and Aletha Harris, Horn Solutions Inc., William H. Hornberger, Kelly Hunter, Nancy & Mathews Barry Wilken, LaPorte CPAs and Business Advisors, Mark and Alice Lee, Gunther von Gynz-Rekowski, Ramsey and Robin Womack

Program Supporter:
Bill and Jean Frazer, Frierson Sola Simonton & Kutac PLLC, Charlotte Jungen, Mosbacher Energy Company
---
Note: If you paid for a ticket to attend the Scholarship Extravaganza prior to TXCPA Houston's decision to waive the fee, no further action is needed to convert this payment into a much-needed donation to the TXCPA Houston Foundation Accounting Scholarship fund and CPAs Helping Schools. If you prefer to rescind your donation, please email kondracek@houstoncpa.org to request a refund. Refunds will be issued within 14 days.