Join TXCPA Houston's Membership Mixology Celebration; Have a Drink (or Three) on Us!
Published on

Apr 6, 2021

by

Mark Allen, CAE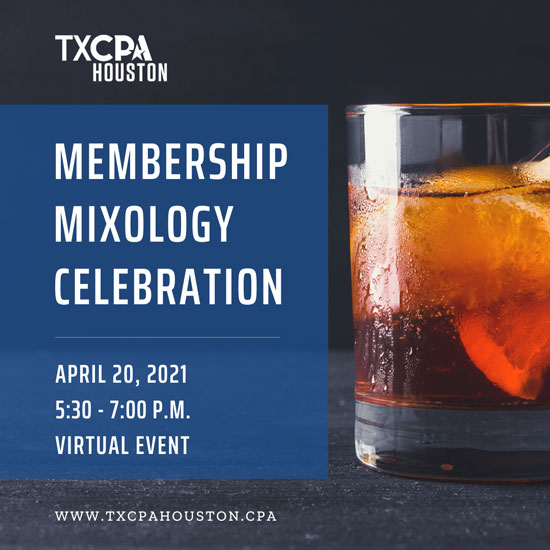 Let's celebrate enduring a global pandemic for more than a year by gathering on April 20 from 5:30-7:00 p.m. for a virtual mixology party! Eighteen 36's resident mixologist, Josh Saphier, will demonstrate how to mix three craft cocktails as he regales us with the history and origins of these drinks and presents fascinating facts about spirits. You'll hear the legends and the myths surrounding these classic drinks as you learn to make the perfect adult beverage.
This is a very special event, so TXCPA Houston will pick up the tab!
Even if you abstain from alcohol, you'll be entertained by these intriguing tales. You do not need a drink kit to participate and enjoy the fun!
Everyone who registers by April 16 will be eligible to receive one registration and a complimentary drink kit ($55 value) enabling you to follow Josh's instructions for mixing three perfect cocktails. You must pick up your drink kit at TXCPA Houston's office or Eighteen 36 (see below for details) by Monday, April 19. Alternatively, you may purchase ingredients at a store of your choice using a list provided after registering.
Let's celebrate getting through the pandemic together!
Complimentary Drink Kit Pickup Option 1—TXCPA Houston's office 777 Post Oak Blvd., Suite 500, Houston Click here for directions
Monday, April 12 – Friday, April 16 (10 a.m. - 2 p.m.)
Monday, April 19 (10 a.m. - 2 p.m.)
Complimentary Drink Kit Pickup Option 2—Eighteen 36 * 2221 W. Alabama St., Houston Click here for directions
Friday, April 16 (11 a.m. -11 p.m.)
Saturday, April 17 (11 a.m. -11 p.m.)
Sunday, April 18 (11 a.m. -11 p.m.)
*Be sure to give bar staff your name and indicate you're picking up a drink kit for TXCPA Houston's virtual event.

Click here to register