Newly Improved 2021 Spring Accounting Expo - May 17 - 21, 2021
Published on

Apr 14, 2021

by

John E. Foster, CPA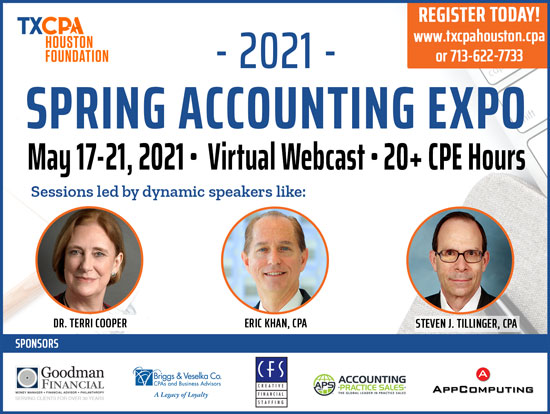 To improve the Virtual 2021 Spring Accounting Expo, we have taken the 20+ CPE hours and spread them over 5 days for your viewing. We believe this enhanced format, and a greater variety of courses and instructors offered will provide you with an optimal experience in 2021.
Another feature of the 2021 Expo is a daily Q&A with the speakers. A favorite part of this annual conference is catching up with old friends. Attendees can visit breakout rooms, ask questions of the speakers, and visit with one another.
Some Of Your Favorite Speakers Are Back For The 2021 Expo:
Steve Tillinger will have 4 hours of Tax Update.
Steve Goodman is back with "Financial Planning 101."
Chuck Cummings will be speaking on "Leadership That Counts."
Tim Phillips will teach on "Negotiation Skills You Need to Get What You Want."
Other Timely Topics At This Year's Spring Accounting Expo Are:
IT Security
5G
Banking – SBA
One Note Best Practices
Teams (Microsoft) and Zoom
Marketing and Business Development
Fostering a Diverse & Inclusive Organization
The cost of the 2021 Spring Accounting Expo is $450 for Chapter Members and $550 for Non-Members. You can watch the courses in the manner of your choosing that best fits your schedule. Technical assistance will be available from 8:00 a.m. to 5:00 p.m. during the week. The live Q&A and networking will start at 4:00 p.m. each afternoon BYOB.
In 2020, the planning committee had to pivot quickly to provide a virtual conference in May, and this past year we have looked at ways to improve the conference and bring back some of the dynamics of our live Expo. We believe this new viewing format and live Q&A greatly enhances the 2021 Spring Accounting Expo and offers both convenience and enjoyment for the attendee.
Click here to register for the best and most diverse CPE event offered in the State!