Member Highlight: Omar Al-Kasani, CPA, CGMA Receives (HCC) Accounting Department's "Employer of the Year" Award
Published on

Aug 13, 2021

by

User Not Found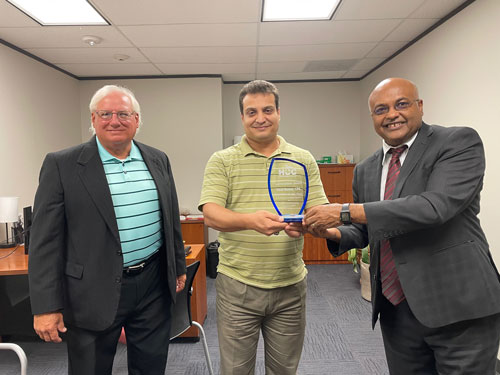 Congratulations to TXCPA Houston member, Omar Al-Kasani, CPA, CGMA, for receiving the Houston Community College (HCC) Accounting Department's "Employer of the Year" award for 2021.

Starting in January 2019, Omar started hiring HCC Cooperative Education Accounting Program (Co-op Program) students for internship positions with his firm. The Co-op Program provides HCC students with on-the-job training required towards their Associates in Applied Science (AAS)-Accounting degree and/or Accounting Certificate.
In the spring of 2021, Omar went above and beyond the call and hired 5 HCC accounting students with pay. This was the period the nation was undergoing the pandemic and jobs were scarce. These students couldn't find internship jobs anywhere, but thanks to Omar his firm was able to hire them so that they could continue their academic journey.
Thank you, Omar, for providing HCC students with accounting internship experiences so that they can secure meaningful accounting jobs upon graduation.

Featured in photo:

(On left) Ronald Desbrow, CPA, HCC instructor that teaches all the Co-Op courses and he arranges with different employers in the accounting workforce to hire HCC students with internships.

(On right) Dr. Mesfin Genanaw, HCC Accounting Program Coordinator presented the award to Omar.