Accelerate YOUR Leadership Skills in 4 Weeks
Published on

Aug 25, 2021

by

Carol Spencer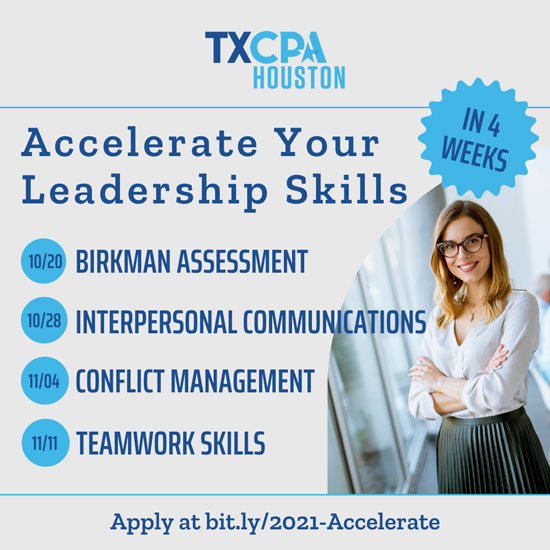 Want to Accelerate YOUR Leadership Skills in 4 Weeks?
Join TXCPA Houston's four-week virtual leadership program to tighten your leadership skills and build your professional network. ACCELERATE 2021 begins on October 20, with an in-person (virtual option available) meet & greet mixer with fellow participants at TXCPA Houston's Training Facility (777 Post Oak Blvd.). You'll receive your personalized Birkman Assessment Report that will give you insights into your strengths and weaknesses. Sessions will be presented virtually on the next three consecutive Thursday mornings (7:30-10:30 a.m.). You'll implement leadership best practices by using what you've learned from your Birkman report. The $495 registration fee includes the Birkman report, in-person welcome mixer, four weeks of virtual instruction, breakfast credits to enjoy during class or offline, and a wrap-up in-person dinner and discussion in mid-November. All virtual sessions are via Zoom.
Who Should Attend?
Current and future leaders who want to take their next career steps, newly promoted professionals (manager level) with a minimum of six years of full-time work experience. We welcome and encourage previous Accelerate attendees to join! The new program content will be useful for those of you who are now at partner and executive levels.
Cost: $495 
CPE Credit: 12 Hours (three hours per classroom instruction)
Class Size: Limited to 20 current and future leaders of the accounting profession 
In-person (virtual option) class opens the program on Wednesday, October 20 at 3:00 p.m. 
Virtual classes are held on Thursday morning, from 7:30 to 10:30 a.m. on October 28, November 4, and 11. 
Topics include Personality and Self-awareness: Review of Birkman Assessment; Interpersonal Communications; Conflict Management; and Teamwork Skills
Click here for a complete schedule and additional information. 
Click here to apply by September 30.
For information, contact Membership Manager Carol Spencer.