Doeren Mayhew Invests $1.8 Million into New Houston Office
Published on

Dec 14, 2021

by

Erika Yanez, Doeren Mayhew Senior Marketing & Communications Manager
HOUSTON – December 14, 2021– Houston CPA and advisory firm Doeren Mayhew has relocated to a new permanent location following the completion of its $1.8 million buildout, furthering the firm's long-term commitment to build on its growth and remain a prominent name in the local accounting industry.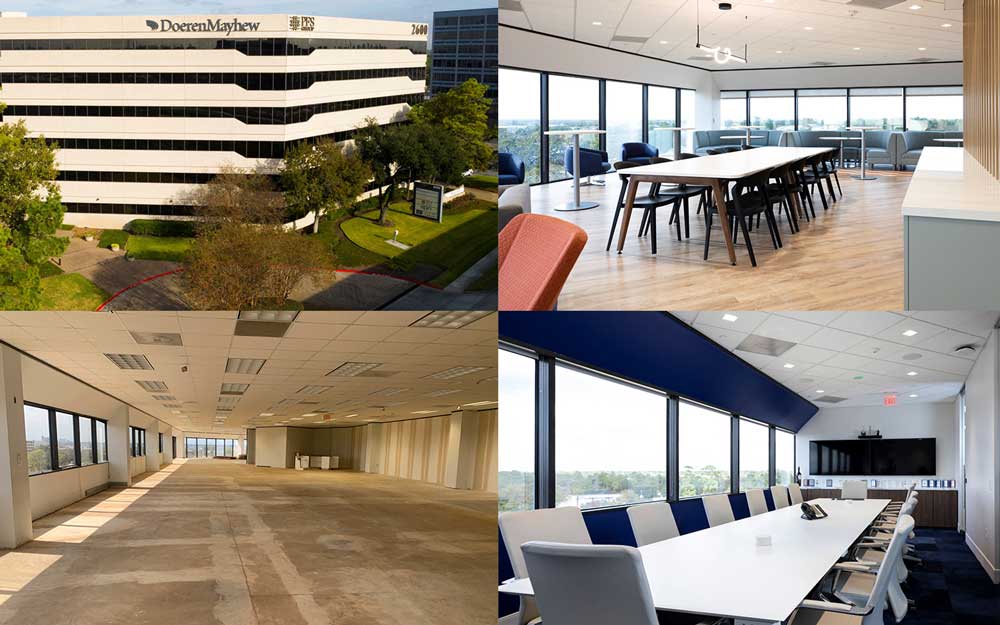 The firm's new Houston office, located at 2600 North Loop West, Houston, Texas, 77092, now occupies 21,303 square feet on the sixth floor, and intends to expand within the building in the future. As part of Doeren Mayhew's lease agreement, the firm also obtained rights to display exterior logo signage on top of both sides of the building facing the 610 loop as well as at the building entrance.
"Doeren Mayhew is strongly committed to growing its footprint in the Houston market, and our new, expanded office space was a strategic next step in this direction," says Chris Masters, Houston managing shareholder. "The ability to continue building on our name recognition by being located off one of Houston's most-traveled highways was also an attractive quality that led us to this new location."
Designed with a new modern and contemporary look, the firm's new workspace offers an expanded employee break area complete with a kitchen, lounge and café-style seating, plus two coffee bars, private phone and focus rooms, collaboration rooms and meeting spaces equipped with state-of-the art technology, new office and workstations featuring rising desks and office hoteling capabilities to accommodate future growth. The suite also features wall installations throughout the office highlighting the firm's brand commitment, core values and purpose.
"Culture is key at our firm, so our primary goal throughout the buildout was to ensure we created an environment that reflected who we are and our purpose, while also offering attractive workspace accommodations for our current and future employees. We are optimistic about our future in Houston and having the adequate space to accommodate our growth," Masters added.
As part of the firm's strategic growth, Doeren Mayhew has acquired four Houston accounting firms within the past few years, which generated nearly $5.5 million in additional new revenues. Looking ahead, the firm anticipates continuing its growth path via organic methods as well as additional acquisitions and expanded local recruiting efforts.
About Doeren Mayhew
Founded in 1932, Doeren Mayhew is a leading group of CPAs and trusted advisors who go beyond traditional accounting to help mid-sized businesses grow and prosper. The firm's Florida, Michigan, North Carolina, Texas and European CPAs serve industries such as manufacturing, construction, non-profit, financial institutions, dental, retail/restaurant and wholesale/distribution with a full range of accounting, audit, tax, merger and acquisition, and business advisory services. Combining a deeply rooted history with a progressive mindset, the firm offers insight into the business, oversight to ensure best practices and foresight for what's ahead. Visit www.doeren.com for more information.