Houston CPA-PAC Meeting - JUNE 1, 2022
Published on

May 27, 2022

by

By Carol Spencer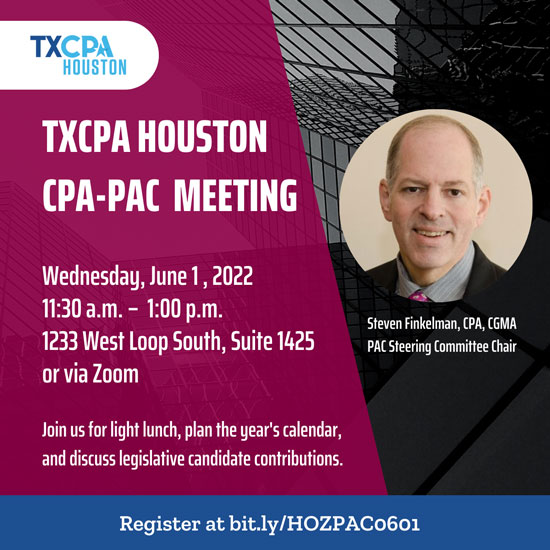 Did you know that TXCPA Houston offers open membership on many of the committees, including the TXCPA Houston CPA-PAC Steering Committee?
PAC members usually meet quarterly to plan PAC fundraising activities, coordinate contributions to Texas legislative candidates, administer the Houston-area key person program, and stimulate interests in political affairs.
Unsure about politics? The CPA-PAC is a non-partisan political action committee that supports local legislative candidates who are friendly to business and the needs of the CPA. Everyone's voice is heard, and you don't need to know anything about the candidates – just have an interest in participating in the system.
Join the CPA-PAC meeting on June 1, 2022, at 11:30 a.m. at TXCPA Houston's new office, or via Zoom! Enjoy light lunch, plan the year's calendar, discuss legislative candidate contributions, and meet PAC Steering Committee Chair Steven Finkelman.
Location:
Houston Chapter Training Facility
1233 West Loop S
Ste 1425
Houston, TX 77027
713-622-7733
Email Membership Manager Carol Spencer, at cspencer@txcpahouston.cpa for more information.