Attention Future CPAs: Discover a Sea of Opportunity at Virtual Career Workshop
Published on

Sep 10, 2021

by

Amanda Talaat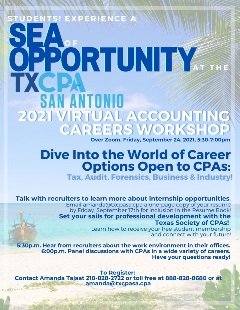 Accounting Majors and CPA Candidates -- you are invited to
Dive In!
to learn more about the variety of career options open to you at the 2021 TXCPA-San Antonio Virtual Accounting Careers Workshop.
You'll also have the opportunity to hear from -- and connect with -- recruiters from seven CPA firms and companies about available internships and entry-level positions in their organizations.
Plan now for 2022 and beyond!
The Accounting Careers Workshop is designed for you if you have questions about
audit or tax, and did you know that those aren't your only options
public accounting or business & industry, but don't limit yourself to only those
CPA license or other professional designation (hint: the CPA license can be the gateway to other designations)
sitting for the CPA exam right away vs. waiting for a convenient time
CPA professionals will discuss all of these considerations and share their expertise and insights.
Registration is free
-- call TXCPA-San Antonio at 210-828-2722/toll free 888-828-8680 or e-mail
amanda@txcpasa.cpa
with your full name, university affiliation and e-mail address to receive the Zoom link. Or, contact your university's accounting faculty to indicate your interest.
Take advantage of the Texas Society of CPAs' offer of free student membership too! Details to be shared during the Workshop.
Questions?
Contact Amanda Talaat at
amanda@txcpasa.cpa
or 210-828-2722/toll free 888-828-8680.