Ready for New Opportunities in the Year Ahead
CEO's Message
By TXCPA President and CEO Jodi Ann Ray, CAE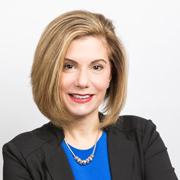 The last two years have been full of change and we learned quickly that we would need a new definition for "normal." As you plan for your new normal, turn to TXCPA for the resources and connections you need to stay ahead of the changes yet to come.
Stay informed. TXCPA communicates with members in many ways, always striving to keep you in-the-know about the latest professional updates. Be sure the details in your member profile are accurate so we can understand your areas of interest and you don't miss any critical alerts. TXCPA's social media channels also provide quick, short and timely updates. Be sure to follow the Society on Facebook, LinkedIn, Twitter and Instagram. I hope to see you during one of our Facebook Live Friday broadcasts at 10 a.m. Central Standard Time most Fridays.
Stay ahead. TXCPA's CPE programs are critical for staying ahead of the changes coming throughout the year. We offer four FREE two-hour professional issues update webcasts, quarterly Texas tax update webcasts and our four-hour Ethics program that meets your state requirement. All these programs are included as part of your member investment! Be sure you add the dates for these and other important CPE opportunities and you'll be ready to answer the tough questions for your clients as you move into tax season.
Stay connected. One of the greatest benefits of membership is the connection you have to thousands of CPAs across the state. You can participate in a chat on TXCPA Exchange, join a committee, volunteer with your chapter or get engaged in TXCPA's advocacy efforts. You can get involved at any time of the year, but we are currently seeking volunteers to join committees for the start of our fiscal year June 1.
All members are invited to attend our 2022 Midyear Meeting on January 21-22 in Irving. You'll hear valuable updates on the profession and connect with others in the community. Members will have the opportunity to attend the event in-person or via webcast.
The TXCPA team is here to help you be more engaged and successful in 2022! Please let us know how we can best serve you in the new year ahead.
Happy New Year!

Share Your Thoughts
I'd love to hear your feedback and answer your questions. Drop me a note at jray@tx.cpa or connect with me on LinkedIn.