Tax Conference is Nov. 6-7
Published on

Aug 28, 2023

by

John Cherri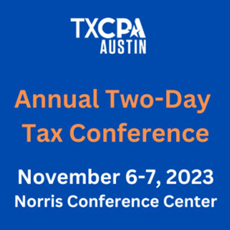 For over four decades, senior tax professionals throughout Austin and Central Texas have gathered for this two-day tax conference devoted to education on state and federal tax planning and compliance issues. Over the years, the Annual Tax Conference has grown in stature to become one of the most respected venues for sophisticated tax education in the state. This conference is produced by tax professionals for tax professionals and includes the most up-to-date tax topics for practitioners advising individuals, families and businesses.

Details on topics and speakers will be posted soon. Registration links below.
11/6-7/23 | Annual Tax Conference | 16 hours
11/6/23 | DAY ONE – Annual Tax Conference | 8 hours
11/7/23 | DAY TWO – Annual Tax Conference | 8 hours
If you have any questions, please contact Diane Joiner.
Sponsors are needed for this event: 2023 Annual Tax Conference Sponsor and Exhibitor Form
Confirmed Speakers and Topics:
A Ticking Time Bomb – The Corporate Transparency Act,

Brad Wiewel, JD and Zachary Wiewel, JD – Texas Trust Law

SALT Update: Remote Workers and Digital Goods,

Christi Mondrik, CPA, Esq., TBLS Board Certified Tax Law
The IRS in 2023 - Where's the Beef

, Joel Crouch, JD, Meadows Collier Reed Cousins Crouch & Ungerman, LLP

Texas Property Tax Basics, Natalie A. Maloney, Attorney| Partner, Michel Gray Rogers, LLP
Effective Use of the Freedom of Information Act in Tax Practice, Daniel N. Price, Managing Member/Attorney, Law Offices of Daniel N. Price, PLLC
Research & Development Tax Credits, Jared Greathouse, Partner - Amini & Conant, LLP
Retirement Options and Strategies for Individuals & Businesses, Dr. Rodney G. Mogen, President, Solve Ur Puzzles
Employment Law Update: New Federal and State Laws and Changes on the Horizon, Susan P. Burton & Josh Ordiway, Cornell Smith Mierl Brutocao Burton

Thank you to our Sponsors!
Lunch Sponsors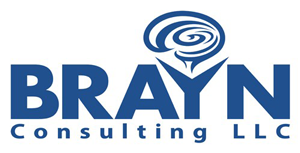 Bette Williams, TXCPA Distinguished Member
Monday Exhibitor

Tuesday Exhibitor