Financial Institutions Conference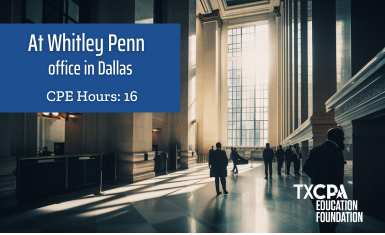 October 23 - 24, 2023

08:00 AM - 5:00 PM

Dallas and Online
The 2023 Financial Institutions Conference will be both a webcast and in person in Dallas.
This popular program is the source for experts who are involved on a daily basis with the intricacies and issues facing financial institutions. From government regulations and an economic update to information on bank failures and interest rate management… we will have topics that interest you. Bank on it!
CPE Hours: 16
EVENT LOCATION: Whitley Penn LLP
8343 Douglas Ave, Dallas, TX 75225-5801 | Map
CONFERENCE HOTEL: DoubleTree by Hilton Hotel Dallas - Campbell Centre | Reserve a room
8250 North Central Expressway, Dallas, TX, 75206 | Map
Reservations: 214-691-8700
Hotel cut off: October 1, 2023 (or when block fills)
Room Rate: $139+ tax.
REGISTRATION FEES
Early bird: Member $439 | Deadline Oct. 8
Non-member $649
Member $489
CPE InfoLine: 800-428-0272 or 972-687-8500 in Dallas | E-mail Customer Service

Day One - Monday, Oct. 23, 2023
8 a.m. - 9:30 a.m. - SVB, Signature and First Republic: The What, Why and How of Bank Failures
William Chittenden, Ph.D./Chief Academic Officer/SW Graduate School of Banking/Dallas
This session will examine what led to the failures of three large U.S. banks in 2023. The common characteristics in all three failures will be discussed. Early warning signs and regulatory failures will also be examined.
Learning Objectives:
Discuss the common factors that led to the recent bank failures in the U.S.
Understand the impact of rapidly changing interest rates on financial institutions
Describe the current state of the U.S. banking system

Major Topics:
Bank liquidity
Interest rate risk
Regulatory failure
Bank failures
9:30 a.m. - 9:40 a.m. | Break
9:40 a.m. - 10:40 a.m. - Fraud in the Digital Age
Jami Palmer, CFE/Vice President, Loss Prevention/Frost Bank/Fort Worth
In today's hyper-connected digital landscape, the battle against cyber fraud is more critical than ever. This session offers an insightful view into the complex world of cyber fraud.
Learning Objectives:
Recognize how easily you can be compromised.
Recognize the red flags to avoid being compromised.
Major Topics: Review the types of cyber fraud including email and internet fraud, identity fraud, ransomware, malware and phishing.
10:40 a.m. - 10:50 a.m. | Break
10:50 a.m. - 12:20 p.m. - Accounting and Financial Reporting Updates
Shawn Lancaster, CPA/Assurance Senior Manager/Crowe LLP/Houston
Matt Stellick, CPA/Senior Manager, Financial Services/Crowe LLP/Austin
This session will focus on emerging accounting and financial reporting matters. The primary areas of focus include both recently effective standards and proposed accounting standards with emphasis on those that are most impactful to financial institutions. Additionally, emerging topics from the SEC and PCAOB will be presented.
Learning Objectives:
Develop familiarity with both proposed and recently effective accounting standards impacting financial institutions
Apply knowledge gained in the development of financial reporting to stakeholders and management
Major Topics:
FASB accounting updates - ASU 2022-02, ASU 2023-02 and proposed update to ASC 326
Financial reporting updates - Goodwill, impairment and fair value
Updates from the SEC and PCAOB
12:20 p.m. - 1:10 p.m. | Lunch
1:10 p.m. - 2:10 p.m. - State and Legislative Update
Christopher Williston VI, CAE/President and CEO/Independent Bankers Association of Texas/Austin
Wendy Foster/Associate Director of Government Relations/Independent Bankers Association of Texas/Austin
Join President and CEO Christopher Williston and Director of Government Relations Wendy Foster from Independent Bankers Association of Texas as they share highlights from this past year's legislative session. Get the highlights on what happened during the latest legislative session and what rulings could have an impact on how you and your clients conduct business in the coming year.

Learning Objectives:
Get an update on the laws that will impact businesses and what you need to be mindful of over the coming year
Hear the dates certain laws will take effect
Discover the important things your clients need to know

Major Topics:
Legislative updates
Banking/financial changes
Government relations
2:10 p.m. - 2:20 p.m. | Break
2:20 p.m. - 3:50 p.m. - Regulatory Update Panel
Danita Thompson, CPA/Regional Accountant/FDIC/Desoto
Thomas Susany/Regional Director/Texas Department of Banking/Dallas
In this session, you will get an update on all the current and hot topics in the banking industry.
Learning Objectives:

Understand current accounting topics in the banking industry
Review current issues seen in banking industry
Major Topics:
Hot topics in the banking industry
3:50 p.m. - 4 p.m. | Break
4 p.m. - 5 p.m. - Next Generation of Cybersecurity: Quantum Computing and Post-Quantum Cryptography
Timothy Tipton Jr., CISSP, Agile Champion, Six Sigma Master Black Belt, CSM/Financial Services Cybersecurity Lead/Crowe LLP/Las Vegas
Quantum cryptography represents the cutting edge of security technology, harnessing the principles of quantum mechanics to create theoretically unbreakable encryption. As the financial services sector grapples with ever-evolving cyber threats, this revolutionary approach offers a robust defense against potential breaches. For those in our industry, understanding its implications is crucial not only for safeguarding sensitive financial data but also for staying ahead in the rapidly changing landscape of digital finance.
Learning Objectives:
Understand the fundamental principles behind quantum cryptography and how it differs from classical encryption methods
Explore the potential benefits and challenges of integrating quantum cryptography into financial services
Discuss real-world applications and case studies where quantum cryptography has been implemented in financial services
Major Topics:
Introduction to quantum computing
Quantum computing in financial modeling
Risks associated with quantum computing
Intro to post-quantum cryptography
Roadmap to implementing post-quantum cryptography
Case studies
Day Two- Tuesday, Oct. 24, 2023
8 a.m. - 9:30 a.m. - Economic Update
Blake Scharlach/Senior Vice President/SouthState|DuncanWilliams/Dallas
The current economic environment is providing financial institutions with unprecedented challenges. Improve the decision-making process by separating the critical data from the noise.

Learning Objectives:
Review the current economic climate
Take a deeper look at what the yield curve is giving you
Major Topics:
Review economic data/assess yield curve
9:30 a.m. - 9:45 a.m. | Break
9:45 a.m. - 11:05 a.m. - CECL: Living with the Standard Post Adoption
Brett Murphy, CPA/Audit Partner/Whitley Penn LLP/Austin
The Current Expected Credit Loss (CECL) accounting standard created a change in how financial institutions report credit losses on financial statements. In this session, we will explore the challenges and opportunities that financial institutions face as they adapt to these changes.
Learning Objectives: Learn how to navigate the complexities of CECL
Major Topics:
Enhanced risk assessment
Data management
Financial statements
11:05 a.m. - 11:15 a.m. | Break
11:15 a.m. - 12:15 p.m. - Employment Law
Brett Coburn, J.D./Partner/Alston & Bird LLP/Atla
Session description coming soon.
12:15 p.m. - 1:05 p.m. | Lunch Break
1:05 p.m. - 2:05 p.m. - Compliance Update
Karen Leiter, CRCM, CAMS, CBAP/Director of Compliance/CliftonLarsonAllen/St. Paul
In this session, you will get an update on the latest compliance issues in the banking industry.
Learning Objectives: Understand industry issues related to compliance.
Major Topics:
Regulatory compliance
Lending compliance
BSA
2:05 p.m. - 2:15 p.m. | Break

2:15 p.m. - 3:15 p.m. - Challenges for Interest Rate Risk Management During 2022 and 2023
Barbara Jeffries/SVP | Director - Treasury & ALX Consulting/TIB, N.A./Farmers Branch
Identifying and navigating your bank's interest rate risk challenges is more critical than ever. With interest rate risk and liquidity risk at the forefront of most examinations and audits, now is the time for bankers to prepare for those ALM/IRR questions.

Learning Objectives:
Understand today's IRR challenges for community banks
Understand the sensitivity of key modeling assumptions

Major Topics:
Deposit pricing struggles
Core deposit run-off
Increased non-core funding dependency
Margin compression
Sensitivity testing of assumptions
Liquidity stress testing
---
| | |
| --- | --- |
| | The Texas Society of CPAs is registered with the National Association of State Boards of Accountancy (NASBA) as a sponsor of Continuing Professional Education (CPE) on the National Registry of CPE Sponsors. Boards of Accountancy have final authority on the acceptance of individual courses for CPE credit. Complaints regarding registered sponsors may be submitted to the National Registry of CPE Sponsors through its website: www.nasbaregistry.org. |
Premier sponsor: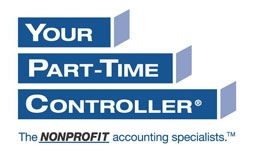 Silver sponsor:

Conference sponsor: