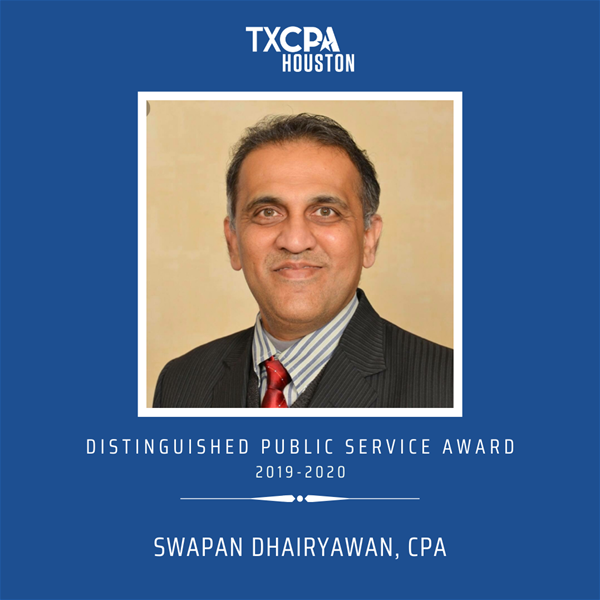 Swapan Dhairyawan, CPA
TXCPA Houston 2019-2020 Distinguished Public Service Award Recipient
Swapan Dhairyawan served as Treasurer of the Indo American Chamber of Commerce of Greater Houston for 10 years where he brought his considerable CPA experience and skills to ensure that the Chamber accounts were organized and transparent. His insistence and planning for a reserve fund or a nest egg for the rainy days have been one of his greatest contributions. His organizational approach, a keen understanding of business, and quick decision-making skills made him the unanimous choice to lead the Chamber as President (2018-19) – an organization that counts over 400 professionals, businesses, and corporations as members.
Swapan has the unique ability to think beyond the possibilities and build on a program to take it to the next level. His experience as President of several community organizations and his vast network of contacts has helped the Chamber tremendously in reaching out to a wider audience during his two-year term as President – the first President to be elected for a two-year term in the history of the Chamber.
During his term, two new events were initiated -the Generational Transition panel discussion which invited a parent and child of Indo American business families to share their business transition plan, and the Open Forum Radio Talk Show featuring a live interview with one member of the Chamber every month. The former elicited a great deal of interest and discussion while the latter brought visibility to the Chamber members. For the past 9 years, he has also organized and moderated the IACCGH Annual Tax Seminar which invites renowned CPAs to educate the community on the latest changes in tax laws that could affect them.
As a small business owner himself, Swapan is passionate about championing and supporting small businesses and worked hard to help small businesses who had been affected by Hurricane Harvey get back on their feet by connecting them to the proper resource partners. As a true leader, he encouraged others to voice their opinions and listened with an open mind which in turn infused a unified sense of teamwork with Board members and the office staff alike and encouraged them to give their best to work for the Chamber mission.
In every capacity that he served, Swapan has consistently elevated the Chamber's work of promoting Houston's economy and business with his contributions and leadership. Due to these and many more reasons, the Chamber would like to nominate him and recommend that he be strongly considered for the Distinguished Public Service Award.
Congratulations, Swapan!