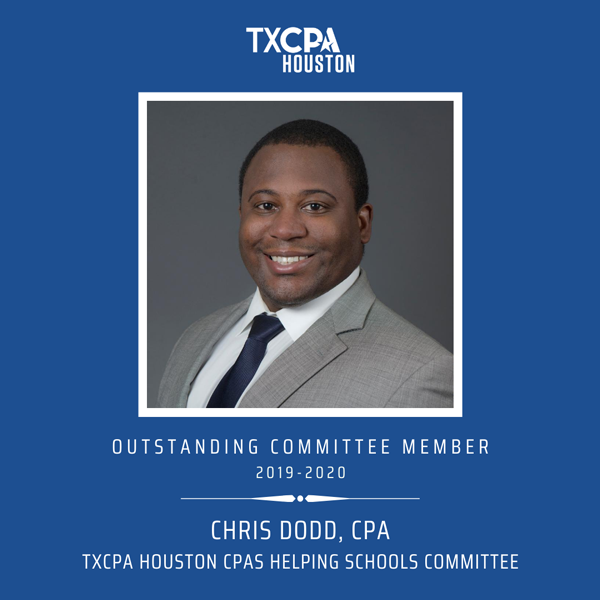 Chris Dodd, CPA
TXCPA Houston 2019-2020 CPAs Helping Schools Committee
Chris Dodd, CPA was new to the CPAs Helping Schools Committee this year--and he hit the ground running! By demonstrating strong leadership skills and initiative, he helped move the committee toward several important goals within his first six months as a participating member. Chris contributed to TXCPA Houston's TopGolf Tournament's success by soliciting raffle items and bringing his firm in as a sponsor. He was always a willing volunteer to represent the accounting profession in classrooms. His fundraising ideas are always both practical and creative.
Chris is also an active member of the Young Professionals Committee. He offered just as much energy, enthusiasm, and inspiration to that group. In a short time, Chris has gained the admiration and respect from his fellow committee members and peers.
Chris has comprehensive experience in a variety of industries, including junior mining exploration, energy and oilfield services, and professional services. In addition to compliance and consulting work, he is heavily involved with recruiting for PFK Texas. Click here to learn more about Chris's background.
Congratulations, Chris!