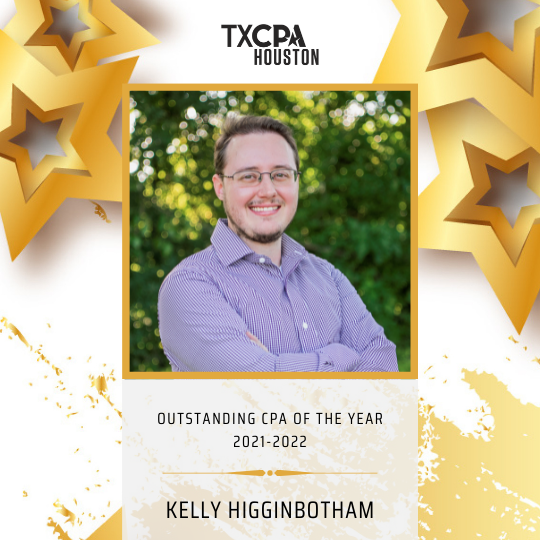 Kelly Higginbotham, CPA
TXCPA Houston 2021-2022 Outstanding CPA of the Year
Kelly is the kind of individual who follows through on a commitment even when doing so stretches his time even thinner than normal. Kelly not only developed the Buddy Program to create bonds between new and experienced members but has continued to evolve the program as he learns what works best. His service on the TXCPA Membership Task Force gave him insights into membership issues that he brought back to the Chapter's committee.
Under his leadership, the Membership Development Committee emerged from the COVID lockdown by setting up social events, including Morning Buzzes and happy hours, that enable members to get to know one another on a deeper level than they would in committee meetings. He orchestrated a successful Open House in January, which attracted new members and generated interest in joining committees.
Now an active member of the Board, Kelly continues to work with the Membership Development and Young Professionals Committees to encourage strong engagement.
Congratulations, and thank you, Kelly.