New Year – New Brand!
Published on

Jan 29, 2019

by

User Not Found
The Texas Society of CPAs is excited to unveil a new visual identity in 2019! Our previous logo was created more than 40 years ago and has helped us establish a strong identity as the professional organization serving 28,000 CPAs in Texas. With new generations of CPAs entering the profession, it was time for us to look at a refresh to ensure that we continue to attract and be magnetic to members.
In 2017, we began work with Arrow out of Austin on exploration of our brand identity. Through member focus groups and an all-member survey in early 2018, Arrow quickly charted our brand platform and provided hearty recommendations for how we could achieve our objectives of being a strong and healthy brand. Our leadership appointed a Brand Implementation Task Force to carry forth the recommendations in the brand assessment report and provide oversight in the creative process.
Over the past several months, the Brand Implementation Task Force has worked with staff and Arrow to finalize the refresh of our visual identity as a brand family of state and chapter programs, services and benefits for members, prospective members and the public. We're thrilled to share some of the highlights of what you'll see unfold as we revamp our marketing, messaging and communications across the state.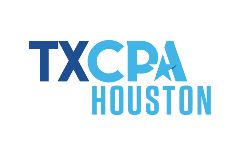 Right away we're sure you'll notice a change in our logo and in our acronym. This exciting change from TSCPA to TXCPA clearly shows who we connect, protect and advance – Texas CPAs. Not only did this give us a chance to show our Texas pride, this update also helps distinguish us from the Texas State Board of Public Accountancy (TSBPA) and the Tennessee Society of CPAs (also TSCPA).
This isn't a change to our name. We're still the Texas Society of CPAs. We're just giving our acronym a Texas-sized update.
Other exciting updates to our logo include fresh, dynamic colors that still carry on our traditional use of blues; a star in the A that gives a nod to being known as the Lone Star State; and bold representation of CPA, three letters that make our members and us stand out.
Chapter Names Extend the Brand Family
TXCPA's brand family includes our 20 local chapters who extend our reach to every corner of the state. Chapters are vital to the success and future of TXCPA, giving members a place to connect locally and serve their communities. The brand refresh provides us with an excellent opportunity to carry our brand identity statewide with chapters. Chapter names strengthen the brand with the use of TXCPA. For example, the Houston CPA Society is referenced TXCPA Houston and the Brazos Valley Chapter of the Texas Society of CPAs is now simply TXCPA Brazos Valley. Concise, clear and consistent across this great state.
What Does This Mean for Members?
We continue to strive to provide members with the best experience possible – in every interaction. This refresh will help us remain relevant and magnetic to future CPAs, which will help us continue to grow and stay strong as the organization that was created more than 100 years ago to connect, protect and advance Texas CPAs. We hope you'll be proud to promote your membership in TXCPA and that you'll find our new look and feel to be reflective of a vibrant organization you're proud to call your professional home.