2019 PAC Fundraising Closes Out Strong
Published on

Feb 10, 2020

by

Steven R. Goodman, CPA, CFP®
In December, the TXCPA Houston CPA-PAC (Houston PAC) made a plea for additional contributions. While we are often the most successful chapter in raising PAC contributions as measured by total dollars, we often fall behind the statewide individual participation goal, hence this special appeal. Typically, December Houston PAC receipts are around $1,000, and December 2019 saw receipts of $4,691, which was 41% of all December TXCPA CPA-PAC receipts from across the 20 Texas chapters.
The total calendar year 2019 Houston PAC receipts were $33,974, a 7% increase from the prior year. While these generous contributions from our members give us something to celebrate, the donations came from only 4% of our members. By comparison, 12% of the CPA members in El Paso provided contributions to the TXCPA El Paso CPA-PAC.
Remember that the TXCPA CPA-PAC funds activities that benefit all of us as CPAs. Funds are used to assist legislators in their re-election contests who have been supportive of our profession and to the business environment in which we operate. Given that 2020 is an election year, we need to start early and need greater participation in the TXCPA CPA-PAC. Your contribution to Houston PAC will directly impact our local legislators. It is easy to participate. You can do so now via this link https://www.tscpa.org/member-login/?ReturnUrl=/advocacy/contribute?filter=pac, which after signing in, allows for a one-time contribution or for you to set up a pledge to make annual, semi-annual, quarterly, or monthly automatic contributions. Or, you can simply add in the contribution with your dues renewals.
A contribution of $100 or more will entitle you to receive the ever-popular Last Week in the Legislature, a weekly update email when the legislature is in session. This contribution will also allow you to attend the TXCPA CPA-PAC events at the TXCPA Midyear Meeting. With your help, we hope to celebrate 2020 as a banner year for the CPA-PAC.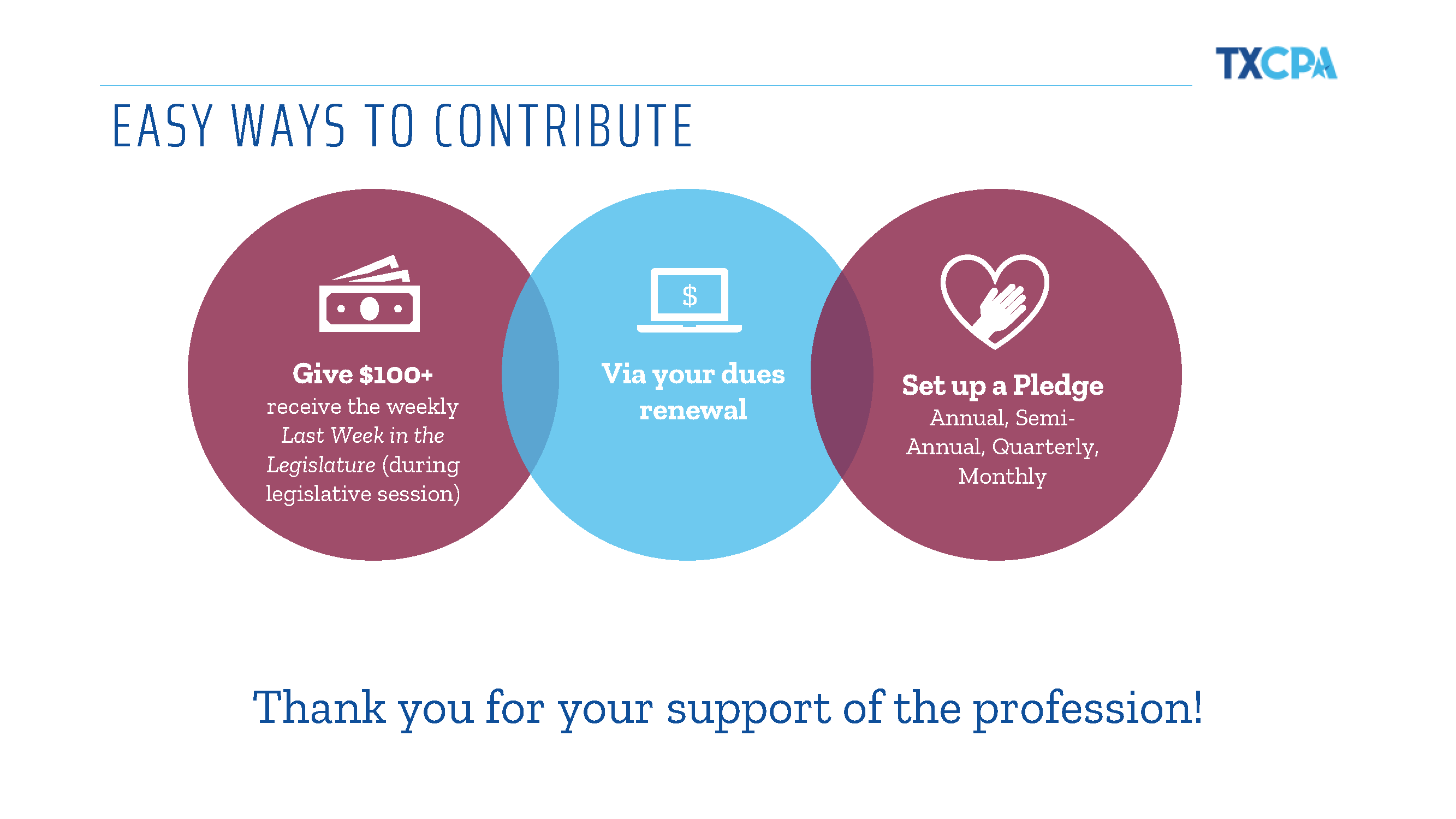 This is an article from TXCPA Houston's Online Magazine called the Forum. Read the full magazine here.
---
Steven R. Goodman, CPA, CFP® is the Founder and President of Goodman Financial Corporation which was registered in 1989. As President, his responsibilities include firm management, and maintaining client and firm relationships.