TXCPA Houston Statement of Support for Diversity and Inclusion
Published on

Jun 5, 2020

by

Darrell Groves, CPA - President and Mark Allen, CAE - Executive Director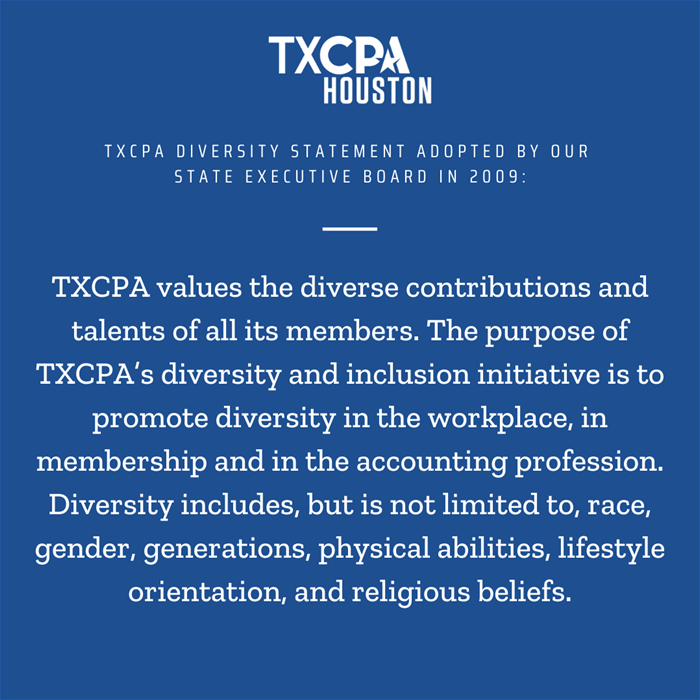 The Texas Society of CPAs has long supported diversity and inclusion as evidenced by the TXCPA Diversity Statement adopted by our state executive board in 2009:

TXCPA values the diverse contributions and talents of all its members. The purpose of TXCPA's diversity and inclusion initiative is to promote diversity in the workplace, in membership and in the accounting profession. Diversity includes, but is not limited to, race, gender, generations, physical abilities, lifestyle orientation, and religious beliefs.
In that spirit, we support the recent statement issued by TXCPA Chairman of the Board, Jerry Spence, CPA, and TXCPA President and CEO, Jodi Ann Ray, CAE, regarding sentiments shared in our community surrounding the senseless death of George Floyd. To quote them, We are committed to standing against systematic racism, and we believe it is no longer acceptable for any of us who disagree with racist behavior to be quiet bystanders or to ignore the unjust behavior plaguing our nation.
We stand with TXCPA and concerned citizens throughout the Greater Houston area in seeking solutions to eliminate inequality and move toward a better and more fair society. We encourage you to provide TXCPA Houston with your thoughts about how we can achieve that goal.
Darrell Groves, CPA
President
Mark Allen, CAE
Executive Director